How many Czechs want Ukrainian refugees to leave after war: Research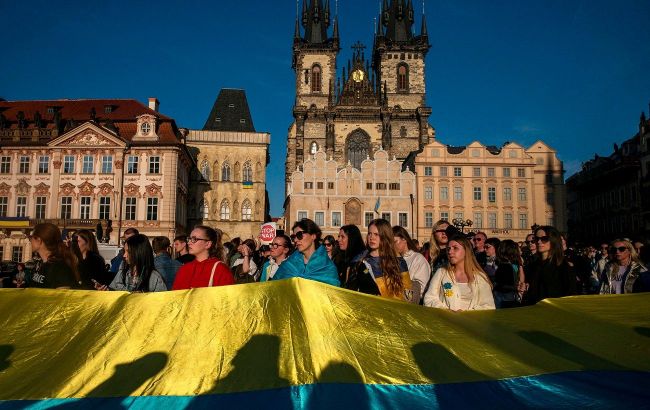 Ukrainian rally in Czechia (Photo: gettyimages.com)
Support for Ukrainians in Czechia remains stable - the majority of Czechs agree that refugees should stay in the country until the end of the war. These are the results of a survey conducted by the STEM company.
However, among those surveyed, there is a prevailing opinion that refugees should leave after the war, according to denikn.cz.
In June, the research company STEM studied the attitudes of Czech society towards the war in Ukraine. It is noted that the majority of people still advocate for supporting Ukrainians, around 55-60%.
56% of respondents express support for Ukrainian refugees to continue staying in Czechia. However, only 40% of survey participants are in favor of allowing war escapees to remain in Czechia even after the war and start a new life. The majority of the population is against this.
Furthermore, only 26% believe that refugees bring benefits to Czech society. This indicates that the support from a significant portion of the population is altruistic, according to the study authors.
"We consider Ukrainians victims of Russian aggression and we should help them, even if it might lead to certain difficulties for us. This is the prevailing opinion," explained Jaromir Mazak, the director of the STEM research.
Meanwhile, a portion of Czech society still holds views supportive of Russian narratives. Around 15% outright deny Russia's involvement in the war, with another 20% expressing doubts. The remaining two-thirds consider Russia to be responsible for the war.
A third of people lean towards supporting Ukraine's efforts to reclaim territories even if it prolongs the conflict. Two-thirds advocate for a swift end to the conflict even if it means losing parts of Ukrainian territory.