Madonna still rocks: Newest photos of still-desirable 65-year-old pop star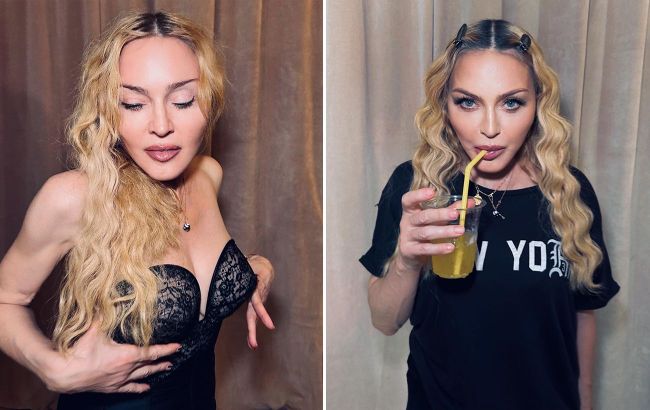 How Madonna looks today (collage: RBC-Ukraine)
After all these years Madonna is still a sex symbol, with her appearance positively stunning. The celebrity has shared beautiful photos on her Instagram.
Madonna's trending looks
The singer, who is now 65 years old, continues to impress her fans and men around the world as she continues to take gorgeous and seductive photos.
The woman takes care of herself so much, as it's important for her to remain an icon of beauty and talent. After all, she has set the bar high.
The other day, the singer showed fresh photos in which she looks stunning. The artist is slim, well-groomed, and radiates strong feminine energy, which is noticeable even through the photo.
The star demonstrated that she follows fashion trends and dresses very modernly. For example, in several shots, she appeared in a trendy skirt split in the front, which was worn with fashionable black palazzo pants and a fur coat.
(photo: instagram.com/madonna)
This image shows Madonna's sense of the moment, and the locations for the photos only confirm this. And then the artist showed even more daring photos in incredible overalls.
The first one is black and covered with sequins and rhinestones. She complemented this look with glasses, which are also in this year's trends. In this jumpsuit, Madonna posed at home eating macarons.
(photo: instagram.com/madonna)
But the next outfit leaves no chance for Madonna's haters, if they exist because putting on a shiny tight jumpsuit with boots and posing in it on the bed is bold. And besides that, it also looks seductive.
So, at 65, the world-famous star proves that age plays no role in a woman's beauty and confidence. She is truly an example of self-love for many girls and women.
(photo: instagram.com/madonna)