House with Chimaeras is just as fantastic inside as outside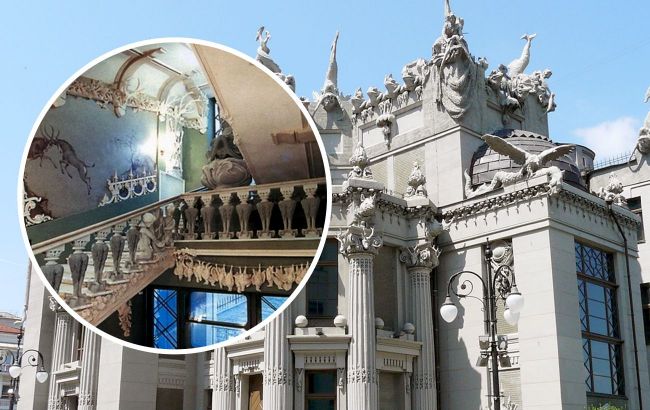 What do the interiors of a House with Chimaeras look like (collage: RBC-Ukraine)
The House with chimeras is one of the architectural decorations of our capital. This building impresses with its decoration not only from the outside but also from the inside. However, you can see the interiors only in the photo, since the entrance to the premises is closed for ordinary Ukrainians, because the building is the residence of the president, and there are also the offices of the employees of the Department of State Protocol and Ceremonial of the Presidential Office, according to the publication of Spraha: u Kyievi tsikavo group.
What does the interior of a House with Chimaeras look like
The House with Chimaeras was built in 1901-1903 by the famous architect Vladyslav Horodetskyi. He decorated the building with mythological creatures and predatory animals, as he was very fond of hunting. Thanks to these sculptures, the building was nicknamed the "house with chimaeras". This house became an example of the early Neo-Gothic style of Kyiv.
Interestingly, the architect reflected the hunting theme not only on the facade of the building but also in the interiors. The interior decoration is rich in artistic paintings, marble, stucco decoration, wood carvings, and inlays. The room also has a spectacular spiral staircase and colored stained-glass windows on hunting themes.
Interiors of a house with chimeras (photo: Facebook.com/Spraha: u Kyievi tsikavo)
The walls and ceiling are richly decorated with stucco. The decor also includes frescoes depicting gazelles and sculptures of deer and elk skulls.
The hall is decorated with a lamp in the form of two fish, which are entwined with algae and lotus flowers. And in the lobby, the lamp socket is made in the form of a starfish. Horodetskyi's hunting trophies are also hung in the house - skulls, horns, and many stuffed animals.
Interiors of a house with chimeras (photo: Facebook.com/ Spraha: u Kyievi tsikavo)
The stoves in the house are also richly and tastefully decorated - they are covered with majolica tiles, which were made according to the sketches of the artist Eva Kulykovska. The rococo stove, which ends with a female figure with a vase, stands out.
Before the full-scale invasion, residents of Kyiv and guests of the city could enter the building for a tour. For this, it was necessary to make an appointment in advance for dates on which official receptions of foreign delegations were not scheduled.