Hackers breach data of Russian lieutenant colonel servicing A-50U aircraft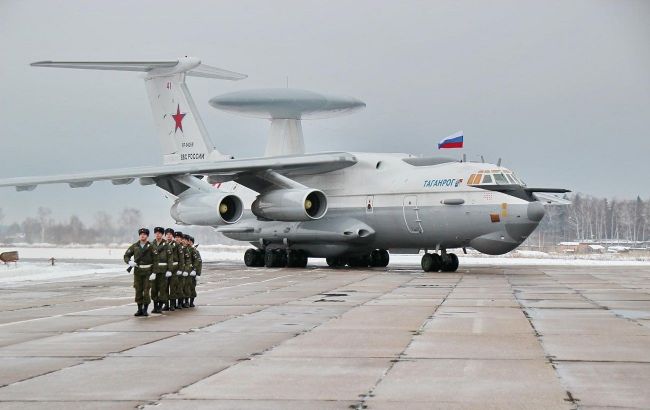 Photo: Russian aircraft A-50U "Taganrog" (Rusian media)
Cyber Resistance activists hacked the personal data of Ruslan Kazantsev, the lieutenant colonel of the Russian Aerospace Forces, who is responsible for the maintenance of A-50U long-range radar detection (LDL) aircraft, according to the National Resistance Center of Ukraine (NRCU).
Hackers leaked classified information about an enemy lieutenant colonel, who is the deputy commander of military unit 41520 of the Russian Armed Forces, on the Internet.
Photo: lieutenant colonel of the Russian Space Forces Ruslan Kazantsev
"It is he who is responsible for the maintenance of the A-50U "Taganrog" aircraft, as well as the A-50U "Serhiy Atayants"," the agency notes.
It is also specified that the Serhiy Atayants anti-aircraft missile aircraft was previously based in Belarus and accompanied the MIG-31K fighter jet, which can carry Kinzhal aeroballistic missiles, during takeoff.
"Most of the information that was managed to be collected from the Kazantsev`s mail was transferred to relevant specialists to examine," the Center said.
Below are just some of the leaked data obtained by the hackers after breaking into the war criminal's box. They include:
screenshot of the insurance policy for the lieutenant colonel's car,
a letter in which the Russian military unit asks the private enterprise "S.V. Ilyushin Aviation Complex" to assist with the production of awards,
the company's complaint about the lack of reporting for previous assistance,
approval of permits for testing unmanned aerial vehicles, the letter on the assignment of the A-50U aircraft named after the designer Serhiy Atoyanets,
and there are also letters in Kazantsev's post office with evidence of abuse from the staff, added the NRCU.
"The National Resistance Center thanks the "former lieutenant colonel" for the information provided and says "Hi" to his other colleagues that the Cyber Resistance has access to," the agency says.
Guerrillas also infiltrated the airfield in Nizhny Novgorod in Russia and showed photos of fighter jets.
Also, recently Ukrainian hackers together with the Security Service of Ukraine hacked the database of the Russian Alfa Bank. In addition, the pranksters were able to personally communicate with the owner of the bank, the oligarch Mikhail Fridman.