'Grain corridor' to operate without Russia: Zelenskyy's Office explains why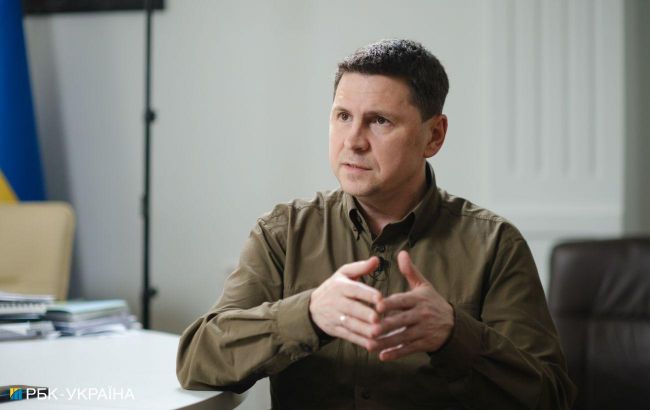 Mykhailo Podolyak, advisor to the Head of the President's Office (Photo: Vitalii Nosach, RBC-Ukraine)
Ukraine is actively working on the integration of its maritime ports to facilitate grain exports. However, in the event of aggression from Russia, the Black Sea Fleet and certain components of other fleets will be destroyed, according to a statement made by the advisor to the head of the Presidential Office, Mykhailo Podolyak, during a live stream.
According to him, Russia will pay with its Black Sea Fleet if it threatens ships in the Black Sea engaged in the "grain corridor."
"Russia is beginning to realize that the Black Sea waters are not internal jurisdiction. And that will be very painful. And the President of Ukraine has stated very clearly: if you strike, we will then destroy the fleet, and throughout the war, you will not have a Black Sea Fleet with elements of the Pacific, Northern, and Baltic Fleets," said Podolyak.
Yermak's advisor emphasized that two issues needed to be addressed to launch the "grain corridor."
"Regarding the 'grain deal' itself, of course, we are trying to address two tasks. First, overland corridors. They don't allow exporting grain on such a scale. Second, we are currently discussing the possibility, preparing a ship that will attempt to pass through the corridor within the framework of our relevant legal agreement with the UN and Türkiye. We'll even try to involve a water corridor," Podolyak stressed.
Corridors in the Black Sea
Almost a month after Russia withdrew from the "grain deal," Ukraine announced the opening of temporary corridors in the Black Sea for commercial vessels. However, the Ukrainian Navy emphasized that the threat from Russia remained.
The routes are primarily intended for the exit of civilian vessels from Ukrainian ports such as Chornomorsk, Odesa, and Pivdennyi since the beginning of the war.
Later, the commander of the Ukrainian Navy, Oleh Chalyk, explained that the corridor in the Black Sea would be transparent, and cameras would be placed on the ships to verify that it was solely a humanitarian mission.