Georgia, Ukraine, and Moldova to join the EU simultaneously - President of Georgia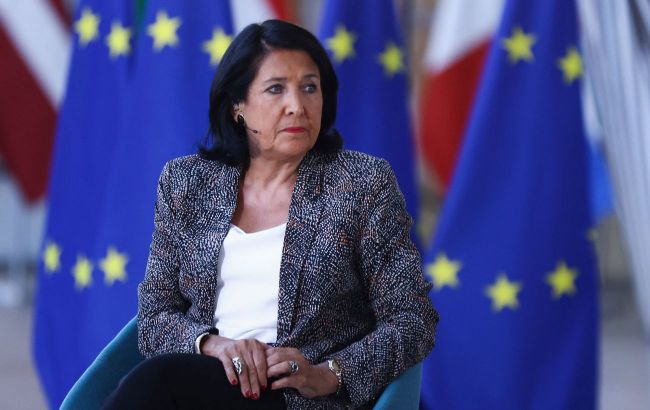 President of Georgia Salome Zourabichvili (photo: Getty Images)
Georgian President Salome Zourabichvili believes that Georgia, Ukraine, and Moldova will become members of the European Union simultaneously, according to Georgia-Online.
During an interview with LCI, the host suggested that Georgia might join the European Union later than Ukraine. However, President Zourabichvili responded that it would happen simultaneously.
"No, I think it will happen simultaneously. Whether it will be in 2030, 2031, or 2029, I don't know, but this horizon will be the next one, as they say, 'big bangs,' the next members will join roughly together. We are a trio, Moldova, Ukraine, and Georgia, and this trio is formed in us," said the president.
According to Zourabichvili, the idea of European Council President Charles Michel that "2030 is a horizon being considered for EU enlargement" is "very interesting."
"The gradual association of candidate countries with the EU thematically, on the issues they are ready for, for example, transport for Georgia, issues of transport and infrastructure in the Black Sea, is very interesting for us, of course, without the right to vote, but this preliminary association will better prepare candidates for what awaits them at the appropriate moment," she added.
Ukraine will start negotiations on joining the EU
Indeed, on November 8, the European Commission recommended that the EU Council start accession negotiations with Ukraine. Moldova is also at this stage.
According to European Commission President Ursula von der Leyen, Ukraine has already implemented 90% of the reforms expected by the EU. However, Kyiv must continue reforms.
We also reported that the European Commission recommended starting membership negotiations with Moldova. Meanwhile, the EU announced that Georgia would be granted candidate status for accession, but under certain conditions.