G7 adopts a joint declaration on security guarantees for Ukraine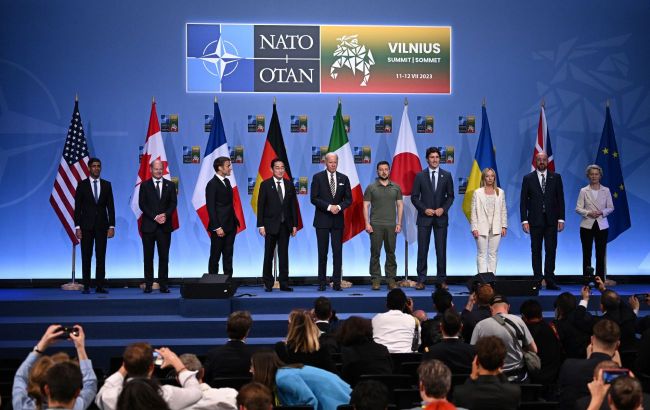 G7 agreed on security commitments for Ukraine (Getty Images)
According to the Head of the President's Office Andriy Yermak, the declaration is a joint product that takes into account both Ukraine's needs and the capabilities of its partners.
The declaration serves as a framework document. The next step is to conclude a system of bilateral security agreements between Ukraine and individual guarantor countries, united within the framework of multilateral interaction.
What do the security guarantees include?
a) Ensuring a sustainable force capable of defending Ukraine now and deterring Russian aggression in the future, through the continued provision of:
security assistance and modern military equipment, across land, air, and sea domains – prioritizing air defense, artillery and long-range fires, armored vehicles, and other key capabilities, such as combat air, and by promoting increased interoperability with Euro-Atlantic partners;
support to further develop Ukraine's defense industrial base;
training and training exercises for Ukrainian forces;
intelligence sharing and cooperation;
support for cyber defense, security, and resilience initiatives, including to address hybrid threats.
b) Strengthening Ukraine's economic stability and resilience, including through reconstruction and recovery efforts, to create the conditions conducive to promoting Ukraine's economic prosperity, including its energy security.
c) Providing technical and financial support for Ukraine's immediate needs stemming from Russia's war as well as to enable Ukraine to continue implementing the effective reform agenda that will support the good governance necessary to advance towards its Euro-Atlantic aspirations.
"This document is open and allows other non-G7 countries to join the security guarantees. The declaration is the first document that symbolizes the presence of an 'umbrella' in the form of security guarantees," noted Yermak.
He added that it is important for Ukraine to win the war and sign security guarantees before the NATO summit in Washington in 2024. These guarantees will remain in effect until Ukraine joins NATO.
For its part, Ukraine is committed to:
a) Contributing positively to partner security and to strengthen transparency and accountability measures with regard to partner assistance;
b) Continuing implementation of the law enforcement, judiciary, anti-corruption, corporate governance, economic, security sector, and state management reforms that underscore its commitments to democracy, the rule of law, respect for human rights and media freedoms, and put its economy on a sustainable path;
c) Advancing defense reforms and modernization including by strengthening democratic civilian control of the military and improving efficiency and transparency across Ukraine's defense institutions and industry.
Biden statement
President of the United States Joe Biden has announced that today the members of the Group of Seven (G7) will release a joint declaration to convey that support for Ukraine will be long-lasting.
"This initiates a process in which each of our countries and any other country wishing to participate will launch long-term bilateral commitments with Ukraine. We will help Ukraine build strong defense on land, sea, and in the air," he said.
Biden added that this will serve as a stable force of deterrence against any threats.
Why does Ukraine need security guarantees?
Ukraine seeks security commitments until it becomes a full member of NATO. These guarantees are necessary to prevent Russia from repeating its aggression in the future.
Ukrainian officials, including President Volodymyr Zelenskyy, have repeatedly emphasized that the best guarantee for Ukraine would be NATO membership.
Zelenskyy also noted that security guarantees would be a solid success for Ukraine. He also emphasized that the NATO summit would be ideal for Ukraine if it received not only security guarantees but also an invitation to the Alliance.