G20 Summit - Draft declaration makes no mention of War in Ukraine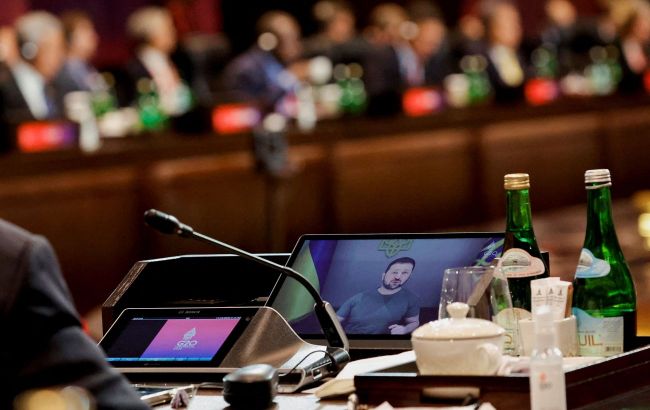 The draft declaration of the G20 Summit does not mention the war in Ukraine (photo: GettyImages)
G20 participants have not yet been able to resolve differences regarding the wording of a concluding statement on Russia's full-scale invasion of Ukraine, according to Reuters.
In the 38-page draft document circulated among G20 members, the paragraph titled "geopolitical situation" remained blank, while 75 other paragraphs covering topics such as climate change, cryptocurrencies, and reforms in multilateral development banks were agreed upon.
One source informed Reuters that a joint declaration might not reach consensus. However, there is an option to list the positions of all members, along with their agreements and disagreements.
"We can gloss over the differences and make a general statement about the need for peace and harmony worldwide that everyone can agree on," another source told the edition.
Another high-ranking official from one of the G20 countries stated that points concerning the war in Ukraine had been coordinated by Western countries and forwarded to Russia for evaluation. According to him, Russia had the opportunity to accept the views of Western countries and express its dissent as part of the statement.
"For now, Russia is blocking a compromise acceptable to everyone else," he said.
In the absence of an agreement, India would have to release a chairman's statement, meaning that the G20 would not issue a concluding declaration for the first time in 20 years.
G-20 Summit
The summit in New Delhi is scheduled for September 9-10. Ukraine is not among the invited countries to the summit. According to the organizers, this format supposedly does not suit discussions on security issues.
Additionally, Russian dictator Vladimir Putin and Chinese leader Xi Jinping will not be in attendance. President Joe Biden of the United States, according to reports, may use this opportunity to sway more countries to align with America.
The EU might leverage their absence to intensify their engagement with countries in the so-called Global South through high-level meetings with African leaders.