Top Putin ally's henchmen sentenced for preparing a coup in Ukraine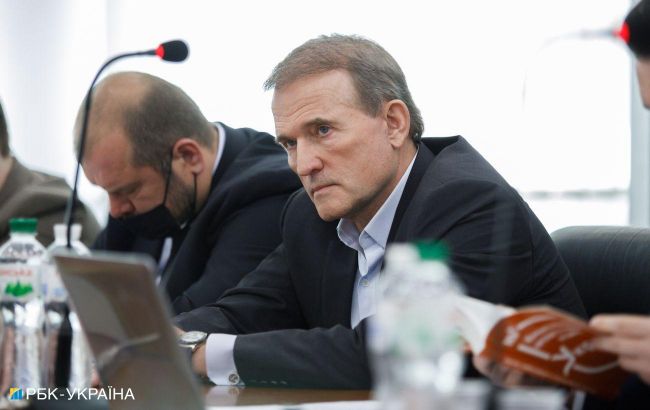 Viktor Medvedchuk (Photo: RBC-Ukraine, Vitalii Nosach)
According to the investigation, four of Medvedchuk's supporters were plotting a violent seizure of power in Ukraine. Among them was a Russian national, a military intelligence officer who communicated directly with Kremlin representatives and Russian intelligence agencies.
The criminals planned that the coup would occur with the start of Russia's full-scale invasion. According to their plans, this could accelerate the occupation of Ukraine.
The conspirators aimed to seize power through controlled public organizations in Kyiv and other regions of our country. These pro-Kremlin groups were to initiate the so-called "national gatherings" in the capital. At this pseudo-forum, they intended to adopt a "resolution" to remove the top military-political leadership of Ukraine from power.
In case of refusal, they intended to resort to a "forceful scenario." For this purpose, the conspirators created their own "combat wing" and intended to involve around five hundred armed individuals.
The Security Service of Ukraine thwarted the Kremlin's plans and exposed the coup's organizers at the beginning of the full-scale war. The court found the culprits guilty under Article 109, Part 1 of the Criminal Code of Ukraine. The Russian national received a 10-year sentence, the organizer will spend seven years in prison, and two accomplices will serve five years each.
The organizers of the coup received prison terms (Photo: ssu.gov.ua)
Who is Medvedchuk?
Viktor Medvedchuk is a close associate of Russian dictator Vladimir Putin and the founder of Ukraine's now-banned Opposition Platform – For Life party. Before Russia's full-scale invasion, he was suspected of treason.
Until February 2022, he was under house arrest, but then the traitor fled. The Security Service of Ukraine arrested Medvedchuk in April of the previous year, and in September, he was exchanged for defenders of Mariupol. Specifically for the "Azov" battalion commanders, who were defending "Azovstal."
His wife, Oksana Marchenko, also fled to Russia and is currently there. She is a suspect in several high-profile cases.