Flooded forests area surpasses Iceland's - President's Office on Kakhovka disaster consequences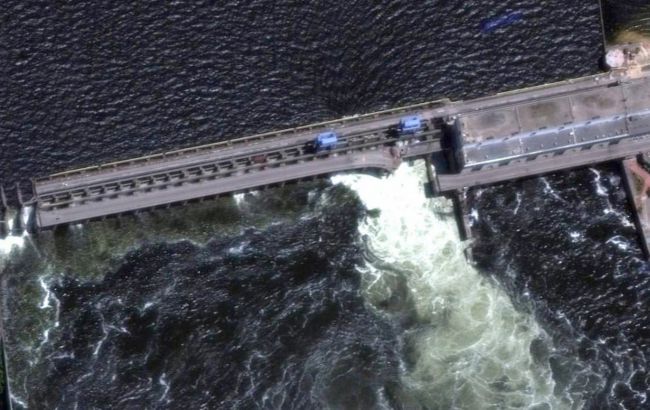 Kakhovka HPP (Photo: maxar)
Russian occupiers' sabotage of the Kahovka hydroelectric power plant caused the flooding of over 50,000 hectares of Ukrainian forests. This affected area surpasses the total forest area of Iceland, said the Head of the President's Office, Andrii Yermak, on his Telegram channel.
"Some figures following the Russian terrorist attack on the Kahovka HPP," he wrote.
Specifically:
Large patches of oil and fuel weighing no less than 150 tons are drifting along the Dnieper River, posing a threat of reaching the Mediterranean Sea,
Over 50,000 hectares of Ukrainian forests have been flooded, and at least half of them are expected to perish. This encompasses an area greater than the total forest cover of Iceland,
The Kahovka Reservoir is now filled with dead fish, estimated to be around 95,000 tons of valuable aquatic resources,
Bodies of dolphins from the Ukrainian coast have been found on the shores of Bulgaria and Turkey in the Black Sea. More than 150 official cases have been recorded.
"Probably the current will carry deer, foxes, and hares from the southern region of Ukraine to these countries. Approximately 20,000 wild animals inhabited the flooded territory," added Yermak, emphasizing the need for strict accountability for the Russian terrorists responsible for this ecocide.