Fighting in Maryinka on July 30: Russian military deploy "Storm-Z" units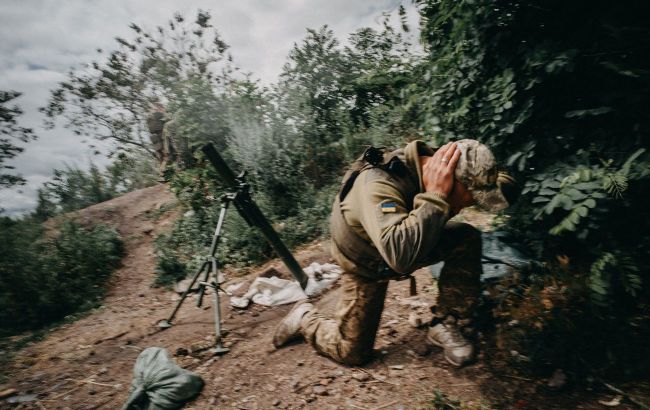 Russian attacks intensify in the area of Maryinka (Photo: Getty Images)
According to the Captain Valeriy Shershen, the spokesman for the Joint Press Centre of the Tavria Defense Forces, during a TV interview, Russian occupying forces have intensified attacks in the Maryinka area of Donetsk region. The Russians are deploying "Storm-Z" units, mainly consisting of prisoners.
"We continue to hold back the Russian offensive on the outskirts of the city of Maryinka. There have been 18 combat clashes recorded here. Notably, the enemy's storming actions in Maryinka have intensified. It concerns the attacks of 'Storm-Z' units, employing armored groups, particularly in the direction of Oleksandrivka - Maryinka," the spokesperson stated.
Shershen referred to the Maryinka region as the "hottest" frontline direction.
He also mentioned that Ukrainian forces are continuing to advance on the Melitopol and Berdiansk directions. In turn, the enemy is attempting to counterattack near the village of Staromaiorske in Donetsk region, which was recently liberated by the Ukrainian Armed Forces.
"In the Robotine area, an increase in enemy defense has been observed, with fresh reinforcements arriving from Mariupol," Shershen added.
Ukraine's advance
According to the Ukraine Armed Forces General Staff, Ukrainian defenders are continuing their advance on three frontline directions - Melitopol, Berdiansk, and Bakhmut.
During this progress, our troops have liberated several settlements in Zaporizhzhia and Donetsk Oblasts. Recently, our forces successfully liberated the village of Staromaiorske in the Berdiansk direction.
The defense forces emphasize that the liberation of Staromaiorske is a significant tactical success, since this settlement holds a dominating height for further fire control and advancement.