Fighting in Bakhmut direction - Ukrainian Armed Forces repel attacks in Donetsk, Zaporizhzhia regions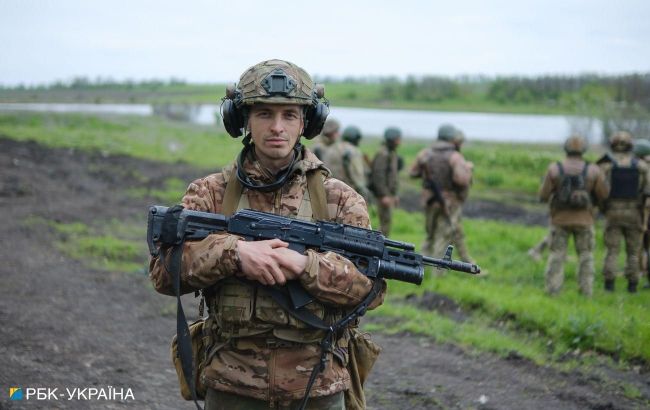 Ukrainian military (photo: Vitalii Nosach, RBC-Ukraine)
According to her statement, in the Klischiivka area, our defense forces achieved success as a result of offensive actions. The enemy unsuccessfully attempted to break through our defenses in the regions of Yahidne and Bohdanivka in the Donetsk region.
"In the Maryinka direction, the enemy conducted unsuccessful offensive actions in the Maryinka area of the Donetsk region. The enemy seeks to displace our troops from their positions, but it has not succeeded," wrote Maliar.
A similar situation is observed in the Avdiivka direction. Despite the enemy's offensive actions, the Ukrainian Armed Forces hold their positions and conduct assault operations.
South
In the Melitopol direction, the Ukrainian Defense Forces continue their offensive operation, causing significant losses to the occupying forces in personnel and equipment, forcing the enemy to retreat from their positions.
"We have achieved partial success in the areas of Verbove and Novoprokopyvka in the Zaporizhzhia region. We are displacing the enemy from their positions and consolidating our gains," she reports.
In the Kherson direction, our defenders are engaged in counter-battery warfare, destroying enemy supply depots and inflicting damage on the enemy's rear areas.
The situation remains stable in border areas with Russia. There, the enemy continues to maintain troop concentrations to protect the state border. They are actively engaged in subversive activities to prevent the redeployment of our forces to hotspots.
The liberation of Andriivka
On September 14, Deputy Minister of Defense of Ukraine, Hanna Maliar, initially stated that Ukrainian defenders had supposedly completely liberated Andriivka from Russian terrorists. However, this information was later contradicted by fighters from the Third Separate Assault Brigade, who emphasized that the fighting for the settlement was still ongoing.
However, the following day, the unit confirmed the de-occupation of Andriivka.
As noted by President Volodymyr Zelenskyy, the liberation of the settlement is a significant and necessary result for Ukraine in the Bakhmut direction.