Explosions rock Russian-occupied area of Kherson region, bridges targeted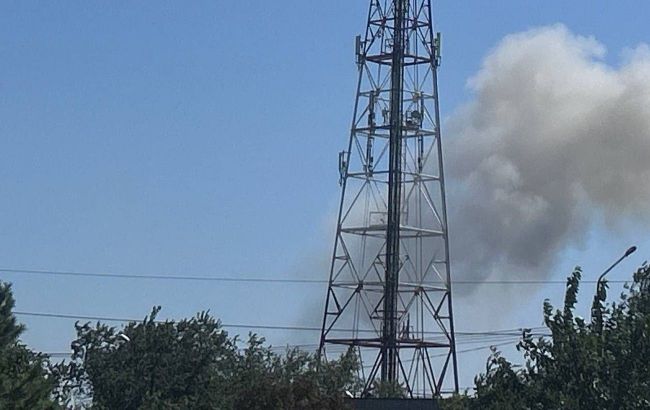 Explosions are heard in the area of Henichesk in the Kherson region (t.me/ivan_fedorov_melitopol)
Reports of powerful explosions have emerged from the Chonhar and Henichesk areas in the Russian-occupied territories of the Kherson region. The explosions may occur near the bridges connecting the Arabat Spit to the mainland, according to the National Resistance Center of Ukraine.
"There are reports of powerful explosions in the area of the temporarily occupied Henichesk and Arabat Spit. Local residents assume that the explosions were heard in the area of the bridges that connect the Arabat Spit to the mainland," the statement reads.
According to the Crimean Wind Telegram channel, one of the explosions took place on the Chonhar Bridge. Melitopol Mayor Ivan Fedorov states that the Russians claim multiple strikes on the bridge's structure.
"Seemingly, the 'proud Russians,' heading for a vacation to the occupied Crimea and in the opposite direction, will experience all the 'joy' that their country has brought to our land. The reality on that side is far from what they see on television," writes Fedorov.
What do the Russians say?
As reported by the Russian propagandist news agency RIA Novosti, an attack was recorded on the bridge over the Tonky Strait, connecting Henichesk to the Arabat Spit. A total of 12 missiles were launched, of which 9 were allegedly successfully intercepted by Russia's anti-aircraft systems.
Volodymyr Saldо, the head of the occupation authority of the Kherson region, also laments the damaged gas pipeline to Henichesk, which ran alongside the bridge.
(t.me/Crimeanwind)
Saldo also shared photos of the bridges after the strikes.
(t.me/SALDO_VGA)
At the same time, the occupiers reported that the operation of one of the three Chonhar checkpoints on the border of the temporarily occupied Crimea and the Kherson region has been suspended.
Storm Shadow again
According to Saldo, the Chonhar Bridge was allegedly fired by Storm Shadow missiles.
Strikes on the Chonhar Bridge
On July 29, the Ukrainian forces reported a second successful attack on the Chonhar Bridge. Before that, Saldo claimed to have "repelled a Ukrainian attack" on the railway in Chonhar. According to him, it was targeted by as many as 12 Storm Shadow missiles.
The first strike on the bridge took place on June 22 of 2023. Then Russia also reported an attack using Storm Shadow missiles, which was later confirmed by the Ukrainian General Staff.