Explosions reported in the Crimean bridge area, August 5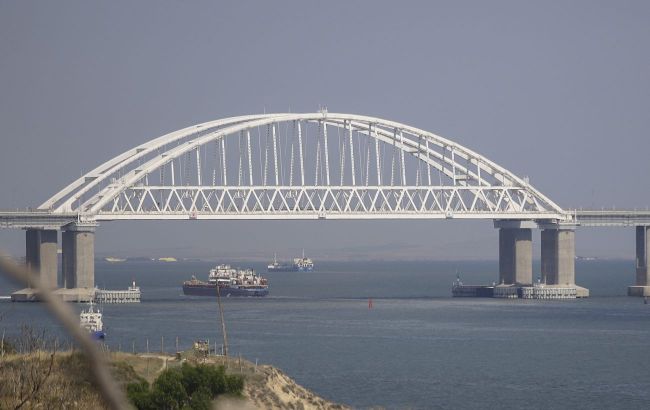 Explosion reported in the Crimean bridge area (Getty Images)
According to Russian Telegram channels, explosions were heard in the area of the Crimean Bridge in the temporarily occupied Crimea last night, August 5.
Reported incidents of explosions near the Crimean Bridge have caused traffic disruptions and prompted an air alarm. Local residents reported hearing at least two explosions.
Oleg Kriuchkov, a representative of the occupying "authorities" in Crimea, wrote on his Telegram channel that the loud sounds heard in Kerch an hour ago were unrelated to the Crimean Bridge and that an attack threat was declared. He assured the public that normal traffic would resume after the threat was lifted. Kriuchkov urged everyone not to escalate the situation and assured that all relevant services were working on the matter. He also said he could not confirm the reports of explosions near the Crimean Bridge.
The occupiers also claimed to have repelled an attack by surface and aerial drones, but according to their statements, the mass attack is still ongoing.
The Crimean Bridge attacks
The Crimean Bridge, constructed by Russia after the annexation of Crimea in 2014, has been utilized for military equipment and troop movements to the southern front.
The first explosions were recorded in the area back in October 2022. Recently, the head of the Security Service of Ukraine, Vasyl Maliuk, confirmed that it was a special operation carried out by his subordinates.
During the recent incident on July 17, two spans of the Crimean Bridge were destroyed. Sources in the Ukrainian Security Service informed RBC-Ukraine that the explosions were part of a special operation conducted in coordination with the Ukrainian Navy. Surface drones were used in the attack on the bridge.