Explosion at plant near Moscow: Russia finds guilty, sends him to pre-trial detention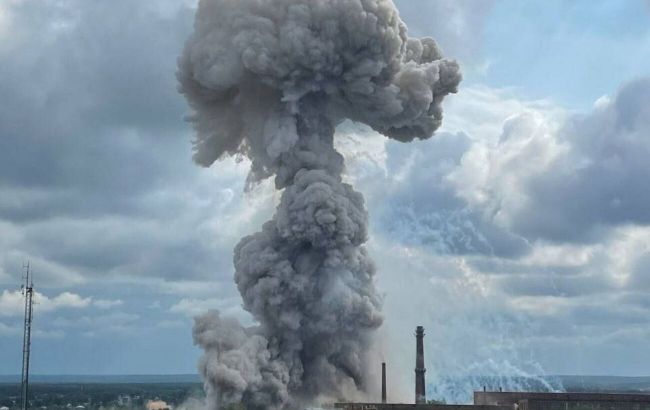 The explosion near Moscow occurred at a factory that manufactures equipment for the military (Photo: Russian media)
Sergiyev Posad City Court of the Moscow Region has arrested Sergiy Chankayev. He is the technical director of the company "Piro-Ross," where an explosion recently occurred, according to Russian propagandist Telegram channels.
As reported by Russian media, the warehouse that exploded in Sergiyev Posad reportedly contained about 4 tons of gunpowder that had been transferred from a defense plant for disposal.
According to the investigation, the cause of the explosion is allegedly a violation of safety procedures. However, Chankayev denies any violations that could have led to the explosion.
The Joint Stock Company "Zagorsk Optical-Mechanical Plant" is a part of the "Schwabe" holding company under the Russian state corporation "Rostec." Reportedly, it is one of the main Russian developers and manufacturers of observation devices for law enforcement and industry.
Additionally, the plant produces medical equipment for diagnosing and treating tissue and vascular diseases of the eye, fluorographs, X-ray image intensifiers, as well as various photometric devices.
Explosion in Sergiyev Posad
On August 9, an explosion occurred at the Zagorsk Optical-Mechanical Plant in the Moscow Region. The enterprise is located in Sergiyev Posad, which is about 70 km from Moscow.
The official version of the explosion in Russia has already been attributed to a "human factor." Allegedly, the explosion occurred on the plant's premises, where a storage area for the pyrotechnics of the company "Piro-Ross" was located.
According to the latest information, at least 43 individuals were affected by the incident. The shockwave blew out windows in several buildings across various areas of the city. A total evacuation was announced at the plant.
More detailed information about the explosion in Sergiyev Posad near Moscow can be found in the material from RBC-Ukraine.