Expectations for Zelenskyy-Biden meeting: What Ukraine awaits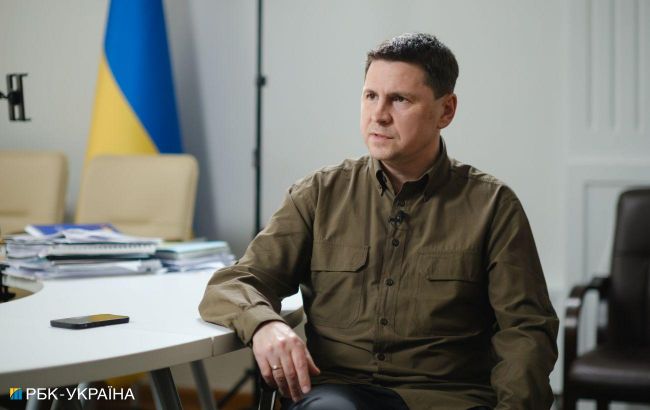 Mykhailo Podolyak, Advisor to the Head of the President's Office (Photo: Vitalii Nosach, RBC-Ukraine)
Ukraine wants President Joe Biden of the United States to hear from President Volodymyr Zelenskyy about the current situation on the front lines. Additionally, Ukraine's leader will convey the current needs of the Ukrainian Armed Forces to his colleague, according to a statement from Mykhailo Podolyak, an Advisor to the Head of the President's Office.
"Our expectations are well known because the USA is Ukraine's largest partner in terms of military assistance, both in terms of volume and initiative," the statement says.
According to him, Ukraine wants the US to unequivocally hear the direct and emotional speech of the president. After that, there will be bilateral communication where the president will explain why the advancement (of the Ukrainian Armed Forces - Ed.) is happening in one way or another and what is needed to expedite it. And why Ukraine will not agree to stop or make similar compromises.
What Ukraine specifically needs
Podolyak says that the Ukrainian Armed Forces need long-range missiles. By using ATACMS logistics, the logistics bases, and command posts of the occupiers will be significantly affected.
"Also, we need to accelerate the training on F-16, and the third component is armored vehicles in any form. We also need munitions for HIMARS," he adds.
The Advisor to the Head of the President's Office notes that the primary focus before winter is to improve and increase Ukraine's air defense and missile defense capabilities. Podolyak says that the number of these systems needs to be increased because Russia has made an overt attack on infrastructure, civilian populations, and energy facilities a key element of this war.
Zelenskyy's visit to the USA
The plane with the Ukrainian president landed in New York on the evening of September 18. According to the plan, Zelenskyy has scheduled meetings with American politicians, businessmen, and is also set to speak at the UN General Assembly. The President of Ukraine plans to meet with the American leader Joe Biden in Washington on September 21.
White House National Security Council Coordinator John Kirby stated that during the meeting in Washington, President Joe Biden wanted to hear from Zelenskyy his personal assessment of the developments on the front lines and the progress of the Ukrainian counteroffensive.