Europe and USA must not allow Russia to freeze war in Ukraine - Ursula von der Leyen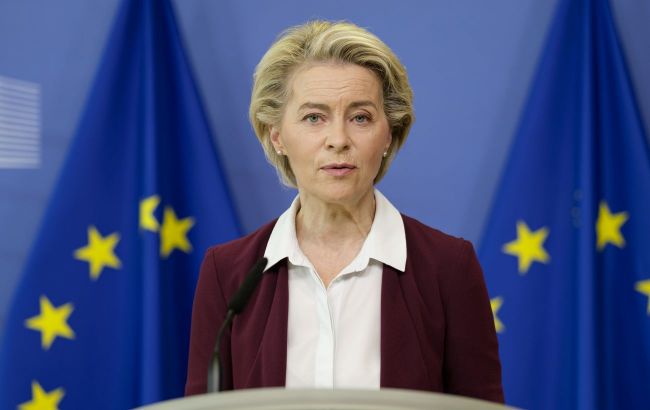 President of the European Commission Ursula von der Leyen (photo: Getty Images)
Russia has been unable to win the war in Ukraine for several months. As a result, the Kremlin may attempt to freeze the conflict in order to regroup and launch a new offensive, states Ursula von der Leyen, the President of the European Commission.
In light of this, the European Union and the United States should join forces to prevent such a development and provide Ukraine with security guarantees.
"We can never match the self-sacrifice and bravery of the Ukrainian people, but we can stand firmly by their side and that's what we're doing for as long as it takes. Not only because it is the right thing to do, but because they are fighting for our values, for our strategic security," emphasized von der Leyen.
According to her, Europe and the U.S. should provide Ukraine with the assistance necessary to prevent Russia from continuing this war, and together they are capable of achieving this.
The President of the European Commission also emphasized that the end of the war should bring a just and sustainable peace for Ukraine. To achieve this, Ukraine needs long-term security guarantees, with the main idea being to provide Ukraine with sufficient military equipment to deter any future military attacks from Russia. One such option could be the Peace Formula proposed by Ukraine.
Ukrainian peace formula
Back in November of last year, Ukrainian President Volodymyr Zelenskyy proposed the Peace Formula to halt full-scale Russian aggression. The formula has already received support from the United Kingdom, the United States, Canada, Japan, Germany, France, Italy, Portugal, Poland, Finland, and the Baltic countries.
Negotiations based on the Peace Formula have taken place in Copenhagen and Jeddah. In particular, representatives from over 40 countries were invited to the meeting in Saudi Arabia, including India, Brazil, Indonesia, Egypt, Mexico, and China.
Furthermore, the third international meeting of national security advisors working to support the Ukrainian peace summit may take place in Turkey.