EU to announce 12th package of sanctions against Russia - Borrel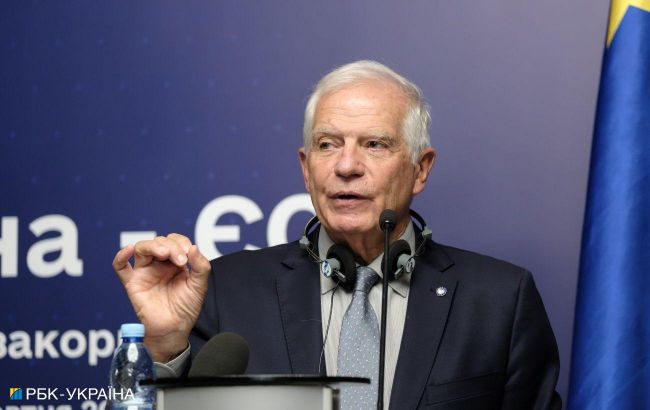 EU High Representative Josep Borrell (Vitalii Nosach, RBC-Ukraine)
The European Union is set to unveil another round of sanctions against Russia early next week. Among other measures, these sanctions will include restrictions on the supply of diamonds from the aggressor nation, according to the EU's High Representative for Foreign Affairs and Security Policy, Josep Borrell, in an interview with the Financial Times.
The announcement by the head of European diplomacy regarding the 12th package of sanctions against Russia slightly adjusts the timeline previously mentioned by the President of the European Commission, Ursula von der Leyen. Last Saturday, she said that the sanctions package would be announced next week.
Today, on November 8, Borrell informed journalists that the new restrictions will be announced on November 13.
The 12th package of sanctions will include a ban on the supply of diamonds from Russia, as confirmed by the EU's High Representative.
"In order for [EU] member states to be unanimous for the ban on diamond trade, some were requesting that the G7 were giving, let's say, political coverage... Well, this has been done and the co-ordination has worked and we will be able to put the package of sanctions in front of [foreign ministers on Monday]," he said.
European Union sanctions against Russia
European Union has already imposed 11 packages of sanctions against Russia following its invasion of Ukrainian territory.
These restrictions included a ban on the export of goods to Russia that could be used in the production of weapons. The sanctions lists also included individuals and entities responsible for the invasion of Ukraine and the continuation of the war.
The 12th EU sanctions package is likely to include a ban on the import of Russian diamonds. According to Bloomberg, this package will hit trade with the aggressor nation by approximately 5 billion euros.
According to reports, a significant portion of the upcoming EU sanctions package against Russia will focus on measures to combat sanctions evasion, dual-use goods, and the prohibition of Russian diamonds.