Duda explains why he couldn't meet with Zelenskyy in New York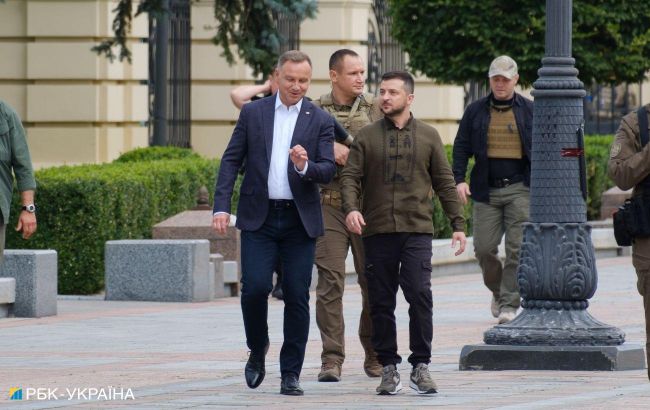 President of Poland Andrzej Duda and President of Ukraine Volodymyr Zelenskyy (Photo: Vitaliш Nosach, RBС-Ukraine)
President of Poland Andrzej Duda was delivering his speech at the UN General Assembly at the same time when he had a scheduled meeting with President of Ukraine Volodymyr Zelenskyy, according to the head of the Polish state.
Duda notes that despite the timing coincidence, he could still have met with Zelenskyy "if the Ukrainian side had made such a demand."
"As soon as the opportunity arises, I will definitely talk to him, but we will definitely not talk in front of cameras. Just as we have already spoken many times, we will talk face-to-face, like two friends who want to resolve different complex situations," the Polish president clarified.
He also adds that he considers the Ukrainian president's words about Poland preparing the stage for a Moscow actor with grain import restrictions unjust.
"This is a dispute that concerns a certain small piece of our relationship. Do not project it onto everything because it has no basis, and others will only benefit from it," Duda emphasized.
Conflict between Poland and Ukraine
On September 15, Poland unilaterally decided to extend the ban on the import of Ukrainian grain, despite the fact that the European Commission lifted the relevant measures.
Following this, Ukraine began filing a lawsuit against Poland with the World Trade Organization, and Zelenskyy sharply criticized Warsaw's actions from the UN General Assembly podium.
Today, Ukrainian and Polish officials have agreed to hold negotiations to settle the conflict.
You can find more details about the escalation between Poland and Ukraine in RBC-Ukraine material.