Dual purpose of F-16 aircraft in Ukraine: Impact on air defense and control of skies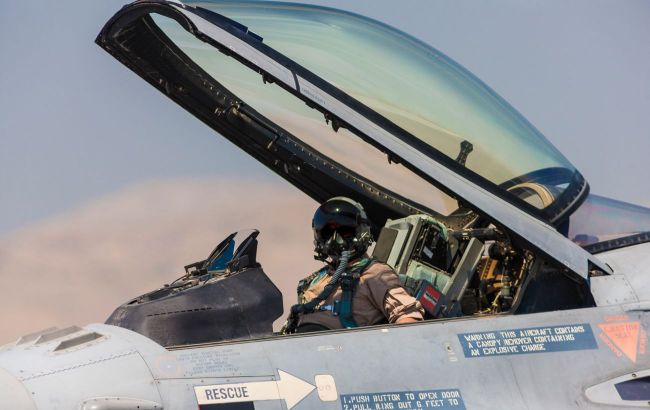 The image shows that F-16s in Ukraine will have a dual purpose (Photo: Getty Images)
Obtaining F-16s from allies will allow Ukraine to significantly counteract Russia during battles, but it's unlikely to gain air superiority. Western aircraft will also assist Ukrainian soldiers in performing other tasks related to air defense, which practically repels enemy attacks on a daily basis.
Learn more about how the F-16s can strengthen Ukraine, their quantity, and why these aircraft are important for air defense operations in the material below.
This information was compiled using material from Air & Space Forces Magazine, Politico, the press service of the Air Force Command of the Armed Forces of Ukraine, and an exclusive commentary from aviation expert and leading researcher of the National Aviation University (NAU), Valerii Romanenko.
Training on F-16s is ongoing
Ukrainian pilots' initial groups traveled to the United States and Europe this summer to learn not only how to operate F-16 aircraft but also how to use them in combat.
According to recent official information, the training process has been confirmed on simulators and aviation simulators that fully replicate the aircraft's cockpit. However, the news emerged recently that Ukrainian pilots have supposedly started flight training on F-16s in the United States, transitioning from virtual to real aircraft.
Citing an unnamed representative from the U.S. Air Force, the Air & Space Forces Magazine reported that a "small number" of Ukrainian pilots have begun "F-16 fundamentals" training at the Morris Air National Guard Base.
The Ukrainian Air Force Command currently neither confirms nor refutes this information. As Yurii Ihnat, the spokesperson, emphasized, Ukraine would announce the pilots' flight training on F-16s after an official statement from the partners.
"We're not saying anything in advance. When our pilots share the first photo in the aircraft, everyone will find out," noted Yurii Ihnat.
What quantity of planes can the partners transfer?
Based on official statements from allies and representatives of the Ukrainian government, Ukraine has been promised approximately 61 F-16 aircraft.
For example, in August, President Volodymyr Zelenskyy announced that the Netherlands would transfer 42 fighters to Ukraine, and Danish Prime Minister Mette Frederiksen stated her country was ready to provide 19 aircraft. Norway has also promised F-16s to Ukraine, although the exact number is unknown.
According to the Air Force Command of the Armed Forces of Ukraine, Western partners will not be transferring individual planes; they will provide units of planes, approximately 12 planes.
"In this way, several dozens of planes could initially be handed over to Ukraine to address current tasks," Yurii Ihnat stated.
Additionally, Soviet-era aircraft like Su-24, Su-25, MiG-29, and Su-27 will remain alongside the F-16s. This combination will strengthen the Ukrainian army's capabilities to counter the enemy in the air.
Will Ukraine gain air superiority?
However, a question arises: will Ukraine be able to gain air superiority by receiving Western aircraft? RBC Ukraine inquired about this from an aviation expert and a leading scientific researcher at the National Aviation University (NAU), Valerii Romanenko.
In his opinion, obtaining F-16s will not grant Ukraine air superiority uniformly. Still, it can be counted on in specific areas of the front. In case Ukraine receives fighter jets, they may start with a quantity ranging from 20 to 30 units.
"This is an insufficient number (to achieve air superiority - Ed). After all, the Russians currently have around 300 aircraft (according to the General Staff's estimates, there are about 436 units - Ed.) on the front," Romanenko said.
The expert notes that it is important to consider that the enemy possesses modern aircraft and various weapon deployment options.
"Therefore, having an advantage with only 20-30 F-16s, which we will receive, will not be particularly impactful. Besides, it is still unknown which missiles will be provided to us, which is a crucial factor," Romanenko pointed out.
For example, it would be favorable if Ukraine were provided with AIM-120C-7 AMRAAM missiles with a range of approximately 150 km by its partners, which are an excellent export option.
"If we receive these missiles, we will be able to effectively combat Russian aircraft like the Su-30 and even the Su-35, and most importantly, the Su-34 bombers and Su-25 attack aircraft," the expert emphasized.
F-16s serve more than just combat purposes
It's important to note that F-16s will assist the Ukrainian military not only in direct aerial combat with the Russians. These aircraft will also serve as air defense interceptors and be relatively cost-effective in countering Russian cruise missiles.
"Because we don't have an infinite number of anti-aircraft missiles. We need to conserve our reserves or replace them with munitions stored by Western allies. So, these planes have a dual purpose, which will be concentrated at various airbases," Romanenko stated.
In his opinion, stationing F-16s in small units (no more than 4 units) at an airbase will safeguard the fighter jets from Russian attempts to destroy them before they are effectively deployed in combat.
The current state of aircraft in Russia
The expert explains that, concerning aircraft, the Russian army enjoys qualitative and quantitative advantages, as well as superior command.
"For example, tactical superiority. Russian aviation continues to be a significant factor affecting the course of military operations. The only thing is that it has not been able to manifest itself as a striking force deep inside our territory," Romanenko emphasized.
At the same time, the Russians experienced substantial losses in aircraft last year.
"They suffered such losses that they stopped flying into the territory controlled by our troops, or they do not fly close at all. They drop gliding bombs from around 20 km at the closest. For instance, attack aircraft come a little closer. They approach 3-4 km because they have to fire unguided rockets in bundles, and those have a limited range. Their range is 3-4 km," Romanenko added.
In conclusion, the occupiers still cannot learn to break through even moderately modern anti-air defense, which was present in Ukraine last year. Nevertheless, the enemy can still operate relatively effectively on the front line, about 20-30 km deep into our territory. Still, there is no talk of Russian dominance in the air.