Will Ukraine's joining NATO urge refugees to return home: study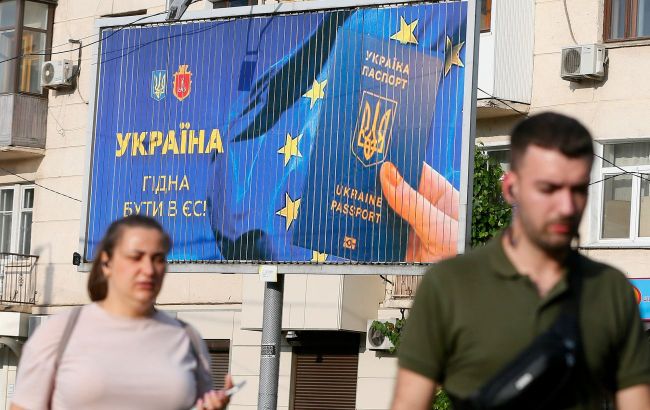 The prospect of Ukraine joining the EU (gettyimages.com)
The return of Ukrainian refugees from abroad depends on various conditions. One of the key factors for Ukrainians in Poland is Ukraine's accession to NATO and the EU.
For half of the refugees, these prospects are the most motivating to return home, according to the EWL Migration Platform experts.
The study titled "Citizens of Ukraine in Poland and the Polish labor market: New challenges and prospects," conducted by the EWL Migration Platform, the EWL Fund, and the Center for Eastern European Studies of the University of Warsaw, revealed that Ukraine's accession to the North Atlantic Treaty Organization (NATO) is one of the key factors influencing the return of Ukrainians from abroad. Specifically, it is a condition for 43% of refugees and 40% of pre-war migrants from Ukraine.
Accession to the European Union (EU) is the most motivating factor for the return of 51% of refugees and 67% of economic migrants.
"The Euro-Atlantic choice of Ukrainian citizens will have a significant impact on the development of the Ukrainian economy. The prospect of integration with NATO provides greater security, attracts technology and investors, and promotes a stable business environment," notes Andrzej Korkus, the head of the EWL platform's board.
He adds that EU accession opens doors to greater access to the European market, increases investments, and enhances trade cooperation. This will have a positive impact on the development of economic sectors, job creation, and the improvement of the standard of living for Ukrainian citizens.
Among other factors that prompt the return from abroad, survey participants mentioned economic issues such as higher wages, improved working conditions, and facilitation of doing business. Additionally, the opportunity to reunite with family members who remained in Ukraine remains important. Both refugees and migrants emphasize the need for a series of reforms in the areas of justice, healthcare, education, and security.
Ukraine officially applied for EU membership a few days after the start of the Russian invasion and became a candidate country in June 2022. On September 30, 2022, the Ukrainian government submitted an application for NATO membership.