Defense Minister comments on possible resignation of Ukrainian top generals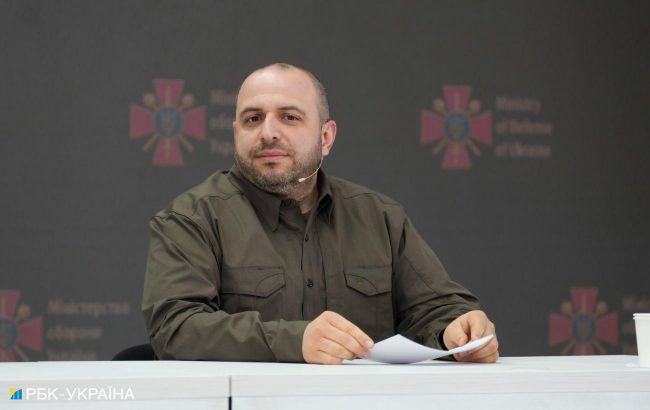 Photo: Minister of Defense of Ukraine Rustem Umerov (Vitalii Nosach, RBC-Ukraine)
In the matter of changes in Ukrainian commanders, no decisions have been made. However, if such changes occur, the public will be informed, says Ukrainian Minister of Defense Rustem Umerov during a joint press conference with his German counterpart Boris Pistorius.
When asked about the possibility of the dismissal of the Commander of the Joint Forces of the Armed Forces of Ukraine, Serhii Naiev, and the Commander of the operation-strategic group Tavria, Oleksandr Tarnavskyi, Umerov avoided giving a direct answer.
"The issue related to changes in commanders passes through all the parameters that we discuss within our internal perimeter. In this regard, it must be said that no decision has been made yet, but we are doing everything possible to increase efficiency. And if this happens, we will communicate very openly with you," said the Minister of Defense.
He added that if such things happen, particularly the dismissal of commanders, "they occur either due to issues that arose earlier or are being discussed to achieve greater efficiency."
What preceded
President Volodymyr Zelenskyy recently changed the Commander of the Medical Forces of the Armed Forces of Ukraine. Major General of the Medical Service Tetiana Ostashchenko was replaced by Major General of the Medical Service Anatoliy Kazmirchuk.
It's worth noting that changes also occurred in the Special Operations Forces. On November 3, the Ukrainian president signed a decree appointing Serhii Lupanchuk as the commander of the Special Operations Forces of the Armed Forces of Ukraine. Another decree by the head of state dismissed Viktor Khorenko, who previously held the corresponding position.
Interestingly, these changes followed a resonant article by Simon Shuster in Time magazine, where he indicated that before the onset of winter, "at least one minister will be dismissed, as well as a general responsible for Ukraine's counteroffensive," supposedly due to slow progress on the front. Ukrainian media speculate that substantial dismissals may be considered, with reports suggesting the possible resignation of three commanders of the Armed Forces of Ukraine. However, there have been no official statements confirming this.