Death toll from Russian shelling of Hroza rises to 55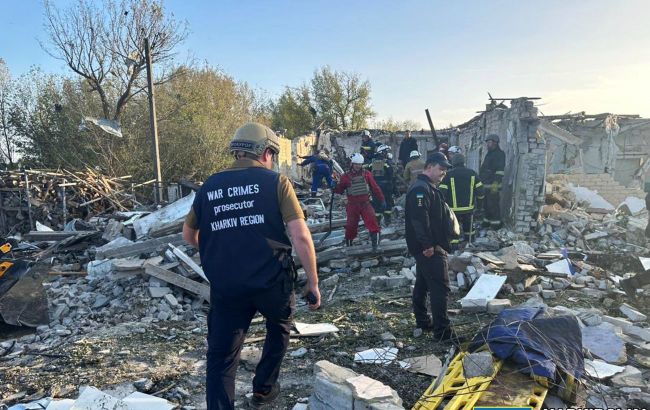 Death toll from Russian shelling of Hroza rises to 55 (t me prokuratura_kharkiv)
The death toll from a Russian missile strike on the village of Hroza in the Kupyansk district of the Kharkiv region has risen to 55 people on Wednesday, October 11, according to Dmytro Chubenko, the spokesperson for the Kharkiv regional prosecutor's office.
"Over the past day, two more women who were previously considered missing have been identified among the deceased," he said.
According to him, the identification of the bodies of the deceased is still ongoing: 55 bodies have already been identified, and three people are still considered missing, with no children among them.
"Based on statements from the relatives of missing persons, the number of casualties may increase to 58," the statement said.
Missile attack on Hroza
On October 5, Russian forces launched a missile strike on a café in the village of Hroza in the Kharkiv region, where, according to official data, 330 people lived. At the time, a memorial dinner with about 60 people was being held for a Ukrainian serviceman at that café.
Yesterday, the number of casualties rose to 53 people. Today, the Security Service of Ukraine (SBU) uncovered two individuals who were gunners for the Iskander missile which the Russian Federation launched at the village. These individuals turned out to be two brothers who sided with the enemy and moved to Russia with their families during the occupation of the village.