Cuba says Russia recruited its citizens for war against Ukraine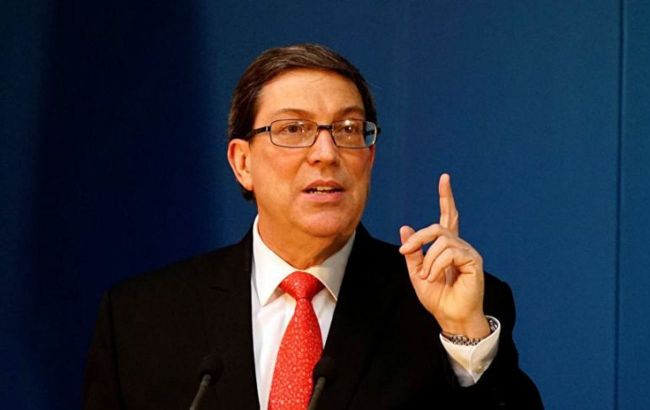 Bruno Eduardo Rodriguez Parilla, Minister of Foreign Affairs of Cuba (misiones.cubaminrex.cu)
Russia was recruiting Cuban citizens to join its military and fight against Ukraine. However, the network has been exposed, and authorities are currently working to eliminate it, according to the Ministry of Foreign Affairs of Cuba.
"The Ministry of Internal Affairs has identified and is working on the neutralization and elimination of the recruitment network, which operated from Russian territory with the aim of attracting Cuban citizens residing there, and even some residing in Cuba, into the armed forces participating in military operations in Ukraine," the statement reads.
Similar attempts have reportedly been thwarted, and criminal cases have been opened against individuals involved in such activity.
"Cuba's enemies are spreading distorted information aimed at tarnishing the country's image and portraying it as complicit in these actions, which we strongly reject," the country's Ministry of Foreign Affairs emphasized.
The ministry also added that Cuba maintains a firm and clear historical position against mercenary activities and plays an active role in the United Nations.
"Cuba is not participating in the war in Ukraine. It acts and will continue to act decisively against those who engage in any form of human trafficking or recruitment on its national territory to enable Cuban citizens to take up arms against any country," the statement concluded.
Reuters reported in the spring of 2023 that Russian propaganda resources claimed that several Cuban citizens had signed military contracts in Russia in exchange for Russian citizenship. They were then sent to war against Ukraine.
Also, previously, the Secretary of the National Security and Defense Council of Ukraine, Oleksii Danilov, reported that Russia was attempting to recruit mercenaries from Central Asian countries for the war against Ukraine.
Additionally, there may be considerations for a "public mobilization" in Russia that could replace the current "covert" mobilization.