Crimean bridge will be finally destroyed: Ukrainian Navy clarified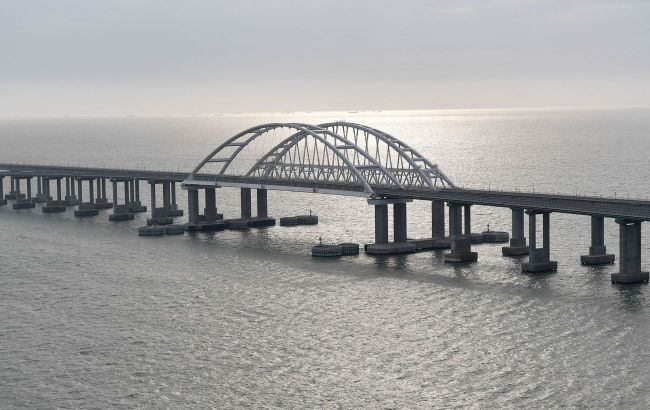 Ukrainian Navy told when the Crimean bridge will be finally destroyed (Photo: Getty Images)
The illegally constructed bridge across the Kerch Strait in the temporarily occupied Crimea will inevitably be destroyed when the situation demands it, according to Dmytro Pletenchuk, the spokesperson for the Ukrainian Navy, in an interview with Ukrinform.
Pletenchuk emphasized that Ukraine does not prioritize symbolism, unlike the Russians. This approach is beneficial during military operations with limited resources.
He mentioned that Ukrainians don't have such tasks if the occupiers are tasked with accomplishing something on the hypothetical birthday of the Russian dictator Vladimir Putin.
"So, this bridge will undoubtedly be destroyed, but it will be done when the situation demands it. Destroying the bridge just to boost morale doesn't make sense. When it is necessary to cut off the logistical tails of Crimea and turn it into an island, it will be done. So, it's about waiting for the right moment," said the spokesperson.
Pletenchuk noted that striking the territory of the temporarily occupied Crimea is not symbolic. It is part of the plan to liberate the occupied territories and systematically destroy storage facilities, control points, and headquarters. These actions are elements of a comprehensive operation.
"Of course, we often measure counteroffensive operations in square kilometers, but it's not very accurate because any such operations are multifaceted, multi-layered, with many elements that must be performed in the right sequence," he added.
Strikes on the Crimean Bridge
The illegally constructed Crimean Bridge, built by occupiers, has faced attacks at least twice.
In October 2022, powerful explosions occurred on the bridge, causing significant damage. The head of the Security Service of Ukraine (SSU), Vasyl Maliuk, confirmed that it was an operation by his special service.
Additionally, in July 2023, another attack on the Crimean Bridge resulted in the destruction of two spans. SSU head Maliuk also confirmed the involvement of the special service in this attack, organized using Sea Baby drones.