Collaborators in Russian-occupied Crimea ready to flee - Ukraine's military spokesperson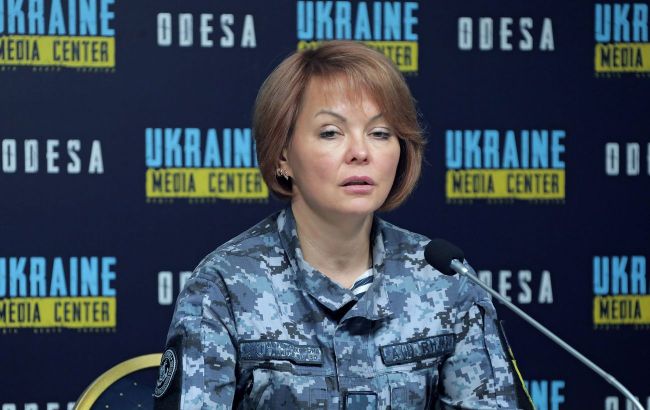 Head of the United Coordinating Press Center of Security and Defense Forces of the South of Ukraine Natalia Humeniuk (Getty Images)
Collaborators on the territory of the Russian-occupied Crimea are already prepared to escape from the peninsula, as the Head of the United Coordinating Press Center of Security and Defense Forces of the South of Ukraine Natalia Humeniuk told Radio Liberty.
According to her, the Russians are currently attempting to create an illusion on the peninsula that they are staying there for a long time. However, the local residents are already realizing that the families of "officials" have been evacuated, and properties have been moved out.
"These are all signs that the collaborators of the upper echelon are ready for a gesture of goodwill (to flee) in the future," emphasized Humeniuk.
She added that even though there are many people willing to escape from Crimea, it is not so easy to leave, as the overcrowded and "exhausted" Crimean Bridge cannot function properly, and alternative routes are quite dangerous.
"In this situation, civilians find themselves in a sandwich-like composition, where civilian vehicles are inserted into military columns to create a human shield. And people are not very willing to risk their lives in this situation," Humeniuk explained.
Explosions in Crimea
The explosions have been occurring recently in the temporarily occupied Crimea. They are linked to attacks by Ukrainian Armed Forces targeting Russian military concentrations, their equipment, as well as ammunition depots.
During the night, the Russian amphibious ship "Olenegorsky Gornyak" was attacked in the Black Sea by surface drones, resulting in significant damage.
Furthermore, in July, explosions were reported on the Crimean Bridge, leading to damage to the road surface. As RBC-Ukraine sources within the Security Service of Ukraine (SBU) noted, this was the result of an operation by SBU and Navy Forces - the bridge was attacked using drones.