China unveiled a new kamikaze drone: Improved copy of Iranian Shahed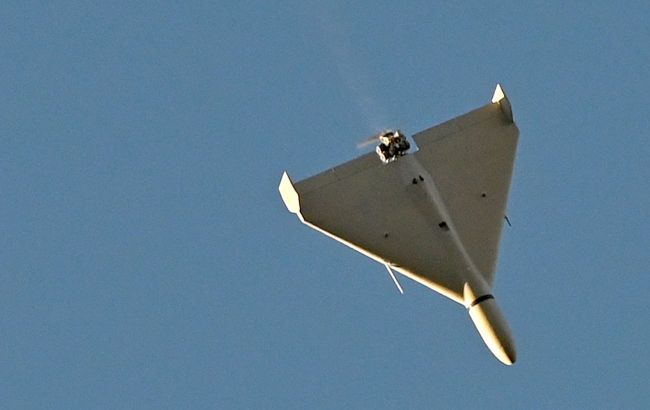 China has unveiled a new drone, the Sunflower 200 (Photo: Getty Images)
At the Russian forum "Army-2023," China showcased its new kamikaze drone, the Sunflower 200. It is an improved copy of the Iranian Shahed-136 drone, which Russia uses for attacks against Ukraine, according to Defense Express.
Following the propagandistic forum, photos and specifications of the Sunflower 200 kamikaze drone emerged online, presented by an unnamed Chinese company.
Overall, this aerial vehicle resembles the Iranian Shahed-136 regarding external appearance and general characteristics. For instance, China claimed that the fuselage length is 3.2 meters, with a wingspan of 2.5 meters. The combat payload weighs 40 kilograms. The flight range is between 1500 to 2000 kilometers, with a speed of 160-220 km/h.
China presented a new kamikaze drone (photo: defence-ua.com)
Defense Express notes that these specifications are identical to the Iranian Shahed-136, known to Russians as Geran-2.
Interestingly, the takeoff weight of the Chinese drone is only 175 kilograms, while the Iranian one weighs 240 kilograms.
"It's likely that due to the reduced takeoff weight, this drone is designed for vertical takeoff, most likely without using solid fuel boosters, as on the original Shaheds," the material states.
Furthermore, it's noteworthy that the onboard fuel capacity of the Sunflower 200 is reportedly 10 kilograms or 160 liters. The exact figure for the Shahed-136 remains unknown.
It's unclear at what rate China produces these drones, whether they will be exported, and if Russia might obtain them.
Ukrainian maritime drones
Previously, the head of the Security Service of Ukraine (SSU), Vasily Maliuk, recently confirmed that Ukraine used maritime surface drones to attack the Crimean Bridge and Russian ships in the Black Sea. These unmanned aircraft are a unique development by the SSU and civilian engineers.
Maliuk emphasized that the production of maritime drones is located in Ukraine, with the facilities situated underground.