China's credibility 'eroded' due to Beijing's position on war against Ukraine - EU diplomacy head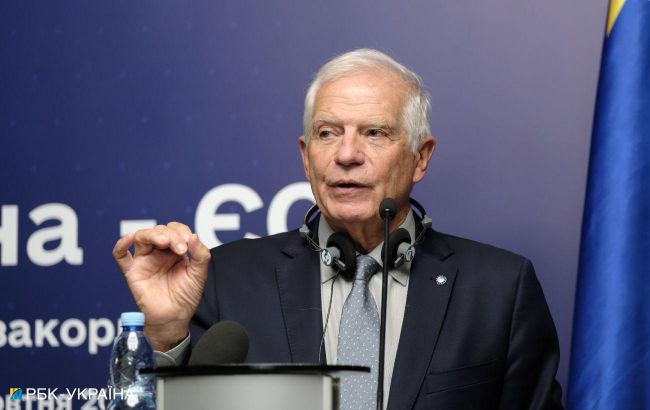 European Union's top diplomat, Josep Borrell (Photo: RBC-Ukraine, Vitalii Nosach)
The head of EU diplomacy, Josep Borrell, stated that trust in China has been undermined due to its position regarding the war against Ukraine. He emphasized that China needs to prove it is not an ally of Russia, citing Bloomberg.
Europeans believe that China "maybe has not been using its strong influence to persuade Russia to halt this aggression," said Josep Borrell, speaking to students at universities in Beijing.
"We consider it essential that China makes a major effort to convince the people of Ukraine that China is not Russia's ally in this war. "I think China should step up humanitarian assistance to Ukraine."
Borrell's comments highlight one of Brussels' major issues with Beijing: China provides diplomatic cover for Vladimir Putin. As a sign of close ties between Moscow and Beijing, Putin will participate in China's Belt and Road Forum in the coming days.
In March, the International Criminal Court issued an arrest warrant for Putin for the abduction of Ukrainian children.
Last month, the EU's chief trade negotiator, Valdis Dombrovskis, criticized China for its inability to condemn the Russian war during a visit to Beijing. Expressing the EU's harshest criticism of China on this issue, Dombrovskis stated that it is equivalent to violating Chinese principles of territorial integrity.
Borrell's visit
Borrell is on a three-day visit to China after two previous attempts this year were canceled. Initially, he tested positive for COVID-19, then China canceled the meeting in July, one of the first signs that then-Foreign Minister Wang Yi had been removed from office.
Borrell also used his speech to call on China to address the growing trade deficit with Europe. The surplus sharply increased during the pandemic as Europeans bought more personal protective equipment or electronics to facilitate remote work. From 2020 to 2022, it more than doubled, reaching $277 billion last year. In 2023, this figure will decrease due to declining demand and will be $17.6 billion in September.
"Public opinion in Europe concludes that the trade imbalance with China is so great that it endangers key sectors or a transition towards climate neutrality at risk, and it will demand drastic, protectionist measures," he said.