British intelligence explains high level of convictions in Russian army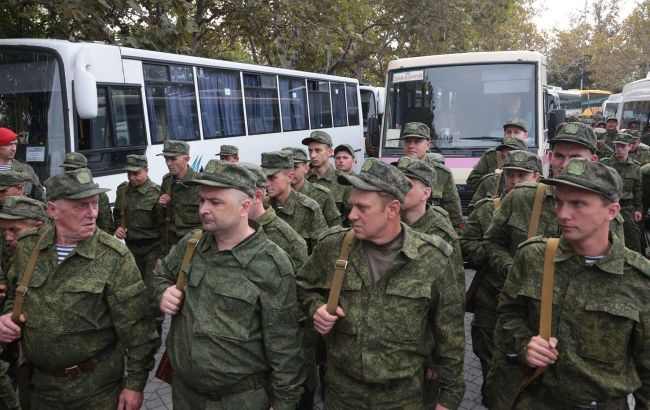 Russian residents are being driven to the front (Getty Images)
A high level of refusal to engage in combat due to lack of preparation and motivation is being observed in the Russian army. Deserters are being replaced en masse by mobilized individuals, according to the Ministry of Defense of the United Kingdom on Twitter.
According to the report, on August 25, two Russian soldiers were sentenced to serve at least two years in a penal colony by a military court for refusing to obey orders to return to the front in Ukraine. The Mediazona news outlet reported that Russia was convicting close to 100 soldiers a week for refusing to fight.
"If this trend continues, there will be approximately 5,200 convictions a year for refusing to fight,"the report stated.
According to British intelligence, the high rate of convictions demonstrates the poor state of morale in the Russian Army and the reluctance of some elements to fight. Refusal to fight likely reflects the lack of training, motivation and high stress situations Russian forces face along the entire Ukrainian frontline.
Although some soldiers have refused to fight and attrition rates remain high, Russia highly likely mitigates their loss by committing a mass of poorly trained soldiers to the frontline.
"Since Russia's September 2022 partial mobilisation, Russia has adapted its approach to warfare by utilising sheer mass for offensive and defensive operations," wrote the UK Ministry of Defense.
New mobilization
Kyrylo Budanov, the head of the Main Intelligence Directorate of Ukraine, said that Moscow is considering an additional mobilization of 450,000 individuals for deployment in the war against Ukraine.
Currently, residents of Russia are being enticed into the war with Ukraine through high salaries. Pay and additional benefits will be strong incentives for people, especially from impoverished regions of Russia. However, according to British intelligence, Russia is unlikely to achieve its goal of recruiting volunteers into the army, as before.