British intelligence describes new wave of Russian strikes in Southern Ukraine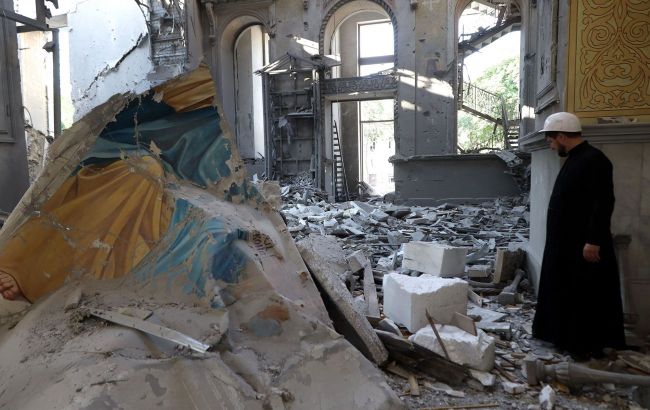 Russia strikes civilian infrastructure (Photo: Getty Images)
According to Ministry of Defense of the United Kingdom on Twitter, as of July 18, Russia has intensified long-range strikes on Odesa and other areas in Southern Ukraine. These attacks have involved an unusual number of AS-4 KITCHEN (X-22) missiles, weighing 5.5 tons each, designed for aircraft carrier destruction.
According to the report, the damages have affected several grain silos in the port of Chornomorsk, south of Odesa, as well as the historical center of the city. Additionally, on July 24, Russia launched kamikaze drone strikes on docks along the Danube River, approximately 200 meters from the Romanian border.
Based on British intelligence, during the period from August 2022 to June 2023, while the Black Sea Grain Initiative was still in effect, Russia refrained from targeting civilian infrastructure in southern ports.
"Since Russia failed to renew the deal, the Kremlin likely feels less politically constrained and is attempting to strike targets in Odesa because it believes Ukraine is storing military assets in these areas. Since the start of the war, Russia's strike campaign has been characterized by poor intelligence and a dysfunctional targeting process," the Ministry of Defence of the United Kingdom stated.
Strikes on Odesa
After exiting the "grain agreement," Russia has been launching almost nightly missile attacks on Southern Ukraine, specifically targeting Odesa and the surrounding region.
On the night of July 23, Russian forces struck the Transfiguration Cathedral (Spaso-Preobrazhenskyi Cathedral) in Odesa with a missile. The attack partially destroyed the temple's structure and roof, with the Russian missile hitting the central altar.
The Chairman of the Odesa Regional State Administration, Oleh Kiper, reported that 57 architectural landmarks in Odesa were damaged.
Furthermore, in the night of July 24, Russian forces attacked the river port of Reni on the Danube, which is located near the border with Romania.
The unmanned aircraft strike resulted in the destruction of a hangar storing grain and caused damage to several other reservoirs holding different types of cargo, as well as other port facilities.
Natalia Humeniuk, the spokesperson for the Southern Ukraine Defense Forces, stated that Odesa and other cities in Southern Ukraine are preparing for possible further enemy attacks.