Briefing at Presidential Office: foreign ambassadors discussed Ukrainian peace formula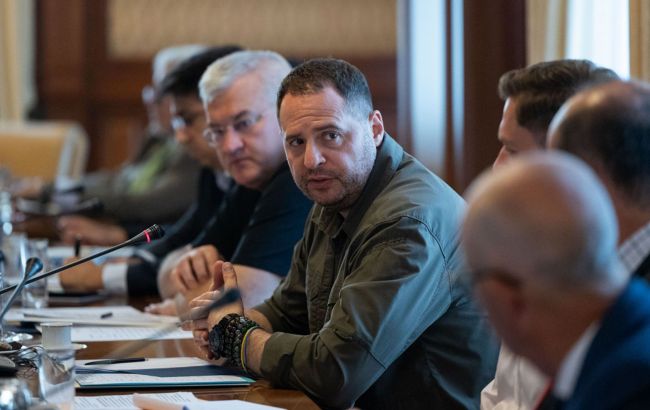 Ukrainian peace formula was discussed at a briefing with G7, EU ambassadors (Photo: president.gov.ua)
Office of the President of Ukraine hosts a briefing for ambassadors of the Group of Seven and a number of countries. Further steps to implement the Ukrainian Peace Formula were discussed, according to the press service of the Presidential Office.
The ambassadors of Brazil, Denmark, India, China, South Africa, and Turkey participated in the briefing.
Agenda of the meeting:
Andriy Yermak, the Head of the Office of the President, briefed the ambassadors on the results of Ukraine's interaction with a wide range of foreign partners regarding the implementation of the peace formula;
It was noted that the Ukrainian peace formula is the only peaceful plan supported by the United Nations;
Yermak emphasized that the Ukrainian peace plan that should be taken as a basis, as the war takes place on our territory;
The Ukrainian peace formula is universal in nature and can be used to overcome existing or prevent new crises in the world.
"During the meeting, the parties exchanged views on further practical steps to implement the Ukrainian Peace Formula and ways to consolidate international support for Ukraine's efforts to restore peace," the press service writes.
Andriy Yermak, the Head of the Office of the President, G7, EU, and other countries ambassadors (Photo: president.gov.ua)
Ukrainian peace formula
President Volodymyr Zelenskyy first presented the Ukrainian peace formula at the G20 Summit in November 2022.
It consists of 10 points, namely:
Radiation and nuclear safety;
Food security;
Energy security;
Release of all prisoners and deportees;
Restoration of Ukraine's territorial integrity and the global order;
Withdrawal of Russian forces and cessation of hostilities;
Justice;
Immediate environmental protection;
Prevention of escalation;
Confirmation of the war's end.