Biden announces 'major speech' on Ukraine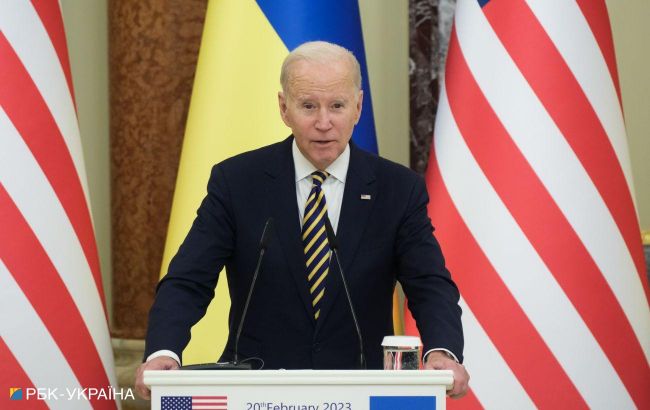 President of the United States Joe Biden (Photo: Vitalii Nosach, RBC-Ukraine)
U.S. President Joe Biden plans to deliver a "major speech" in support of Ukraine, according to the White House.
During a press briefing, Biden commented on the situation regarding the resignation of U.S. House Speaker Paul McCarthy and the reluctance of Republican members of Congress to allocate additional funds for Ukraine.
He stated that he was concerned about this issue but noted that most members of both the House of Representatives and the Senate from both parties had expressed support for funding Ukraine. He mentioned that he would deliver a significant speech on this matter soon, without specifying the exact date.
"It does worry me, but I know there are the majority of the members of the House and Senate, and both parties, who have said that they support funding Ukraine. I'm going to be announcing very shortly a major speech I'm going to make on that issue," he stated.
Biden also mentioned that there were other ways to provide assistance to Ukraine, but he did not go into further details.
What is happening in the United States regarding assistance to Ukraine
Currently, there is a budget standoff in the U.S. Congress for the next fiscal year, with the Democratic Party wanting to include additional funds for Ukraine, while Republicans oppose it and seek cuts in various expenditures.
As a result, the U.S. government is on the brink of a shutdown, and Congress has approved a temporary budget for 45 days. Including additional funding for Ukraine in this temporary budget was not possible, but the White House promised to allocate funds through a separate bill.
Yesterday, the House of Representatives sent its speaker, McCarthy, into resignation, which currently makes it impossible to continue the budget discussions or allocate funds for Ukraine. This can only happen after the election of a new speaker, which is challenging due to internal conflicts within the Republican Party.
Read more about the situation in the American Congress in article by RBC-Ukraine