Biden and allies discuss support for Ukraine - White House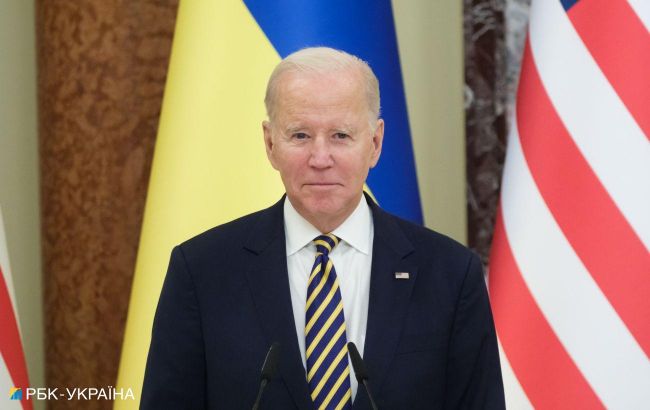 U.S. President Joe Biden (Vitalii Nosach, RBC-Ukraine)
"President Biden convened a call this morning with allies and partners to coordinate our ongoing support for Ukraine," the statement said.
The call came days after Congress passed a temporary government spending bill that notably did not include aid for Ukraine.
Participants included:
Prime Minister of Canada Justin Trudeau
President of the European Commission Ursula von der Leyen
President of the European Council Charles Michel
Chancellor of Germany Olaf Scholz
Prime Minister of Italy Giorgia Meloni
Prime Minister of Japan Fumio Kishida
NATO Secretary-General Jens Stoltenberg
President of Poland Andrzej Duda
President of Romania Klaus Iohannis
Prime Minister of the United Kingdom Rishi Sunak
French Minister of Foreign Affairs Catherine Colonna.
Information from Duda's Office
The President of Poland announced that a recent hour-long phone call was held at the invitation of Joe Biden. He invited G7 states and EU leaders, as well as the NATO Secretary-General.
"I represented our part of Europe along with President of Romania, Klaus Iohannis," the statement said.
The main topic of discussion was the situation in Ukraine, and Biden called for continued support for the country. Duda noted their determination to support Ukraine, with Poland being one of the key nations providing assistance.
Biden noted the need for wise behavior when facing provocations, particularly from Belarus. He added that in such conditions, Poland can be confident in NATO's support.
U.S. assistance to Ukraine
The issue of further U.S. assistance to Ukraine arose after far-right Republicans began blocking the passage of budget bills for the next fiscal year, demanding cuts in what they considered excessive spending. This led to escalation when a U.S. government shutdown was looming. The Republicans specifically opposed additional aid to Ukraine.
On September 30, the House of Representatives approved temporary funding for the government to avoid a government shutdown, which was set to occur on October 1.
For more details, you can read the RBC-Ukraine article.