Belgium to promote Ukraine's membership during EU Council presidency – Ukraine's Foreign Minister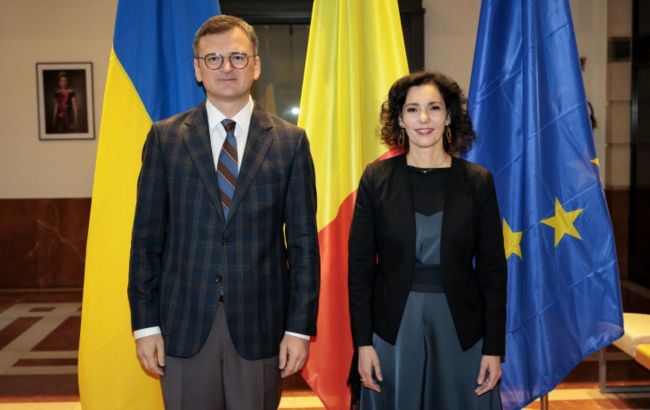 Photo: Dmytro Kuleba, Minister of Foreign Affairs of Ukraine, and Hadja Lahbib, Minister of Foreign Affairs of Belgium (mfa.gov.ua)
Belgium will work to promote Ukraine's membership in the European Union during its presidency of the EU Council in 2024, according to Dmytro Kuleba, Ukraine's Minister of Foreign Affairs, following talks with Hadja Lahbib, Minister of Foreign Affairs of Belgium.
The Ministers discussed the upcoming Belgian Presidency of the Council of the EU and noted that promoting Ukraine's EU membership will be one of the key priorities.
"I heard a clear signal that Belgium understands the historical mission and responsibility in the context of this presidency, during which important decisions will be made and the foundations for Ukraine's future accession to the European Union will be laid," Kuleba said.
The Foreign Ministers also emphasized Belgium's leadership role in introducing a mechanism for using the income tax on frozen Russian assets to help restore Ukraine.
"We need a broader legislative framework within the EU so that this practice can be extended to other European countries. Russia must pay for the damage and destruction it has caused to Ukraine," the Minister said.
He also emphasized that during his visit to Brussels, he had received a clear signal from European partners of unconditional support for Ukraine.
"No matter what happens in the world, support for Ukraine will be a priority. Together with our partners, we remain focused on Ukraine's victory," Kuleba added.
For her part, Lahbib emphasized that since the first days of Russia's full-scale aggression against Ukraine, Belgium has provided shelter to thousands of Ukrainian citizens, as well as significant financial, military, and humanitarian support.
"We continue to support Ukraine. We have recently set up a new fund to help Ukraine in the amount of 1.7 billion euros. The funds will be used for military needs and humanitarian projects," Belgium's Minister of Foreign Affairs said.
Ukraine's accession to the EU
Back in 2022, Ukraine became a candidate for EU membership. However, to become an EU member, 7 conditions must be met. According to Reuters, Ukraine has fulfilled two of the seven conditions necessary to start negotiations on EU accession.
Earlier, Olha Stefanishyna, Deputy Prime Minister for European and Euro-Atlantic Integration of Ukraine, said that fulfillment of two conditions "is a very good result". She recalled that some countries in the Western Balkans "have been making progress for years to get to where we are, and the fulfillment of one recommendation is actually a national holiday".
It should be noted that on November 8, the European Commission is to publish a report on the progress of the EU accession candidates with a recommendation to start negotiations on Ukraine's accession.
On November 7, the media learned the details of the European Commission's secret document on Ukraine. Journalists found out that the EC considers 4 out of 7 criteria for Ukraine to start negotiations on EU accession to be fully met.
And today, the European Commission published a report on the progress made by Ukraine and other candidate countries on the path to EU accession. In it, the Commission recommended starting negotiations on Ukraine's accession to the European Union.