Australia releases gin with Zaluzhnyi's photo to raise funds for demining Ukraine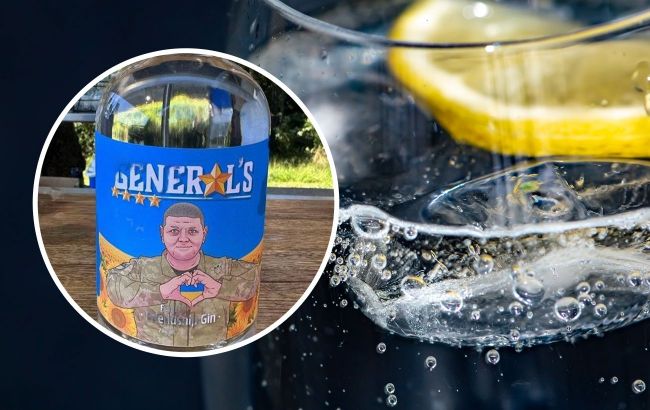 34 cents from each bottle go for supporting Ukraine (RBC-Ukraine collage)
Australian company launches gin with a label featuring the photo of Ukrainian Commander-in-Chief Valerii Zaluzhnyi. Part of the proceeds from each bottle will be sent to aid Ukraine, according to the website of the beverage producer, Sunshine & Sons.
Details about the exclusive drink release
Sunshine & Sons has launched a whole series of beverages under the slogan "Show Your Support." The first release was dedicated to the liberation of Kherson from Russian occupiers.
"Commemorating the International Day of Friendship this Dry Gin celebrates friendship between peoples, countries, cultures and individuals. Love for our fellow man means wars will always end and peace shall always return. We hope that General Valerii Zaluzhnyi and the sons and daughters of Ukraine see that day soon," stated the manufacturer's message.
34 cents from each bottle will be used to purchase metal detectors, which will be sent to support humanitarian demining in Ukraine.
The gin bottle with Zaluzhnyi's photo (photo: Telegram/All-Seeing Eye. Ukraine)
This drink was produced in a limited edition of 5,000 bottles, priced at $99 for 700ml.
Additionally, the manufacturer reports that this beverage series has raised over $150,000 to aid Ukraine.
The label with Valerii Zaluzhnyi's photo (screenshot)
The company admits having received many international orders, but shipping is not possible due to alcohol import restrictions and requirements.
In addition to the bottle featuring Valeriyi Zaluzhnyi's photo, the "Show Your Support" series includes a bottle with a dog named Patron, a set of stamps issued by "Ukrposhta" (Ukraine's national post), and special whiskey glasses.
The "Show Your Support" beverage series (screenshot)