Attack on Kharkiv city center: Police shows first moments after Russian strike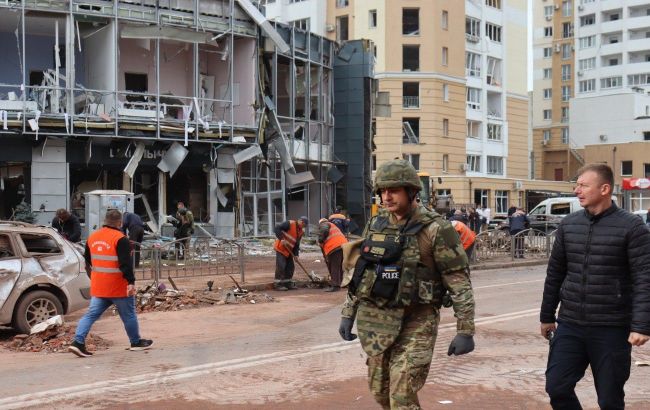 Attack on Kharkiv city center: Police shows first moments after Russian strike (t.me/police_kh_region)
Today, October 6, Russian terrorists launched an attack on the city center of Kharkiv. Video footage from the body cameras of law enforcement officers, who were among the first to arrive at the scene of the shelling, has been posted online by the Ministry of Internal Affairs.
Missile strike on Kharkiv
According to preliminary information, the terrorists used two ballistic missiles of the Iskander-M type for the attack. Residential buildings in the Kyivskyi and Osnovianskyi districts of the city were affected by the shelling.
As reported by the head of the Kharkiv Regional Military Administration, Oleh Syniehubov, as of 01:55 pm, the following is known:
2 people have died, a 10-year-old boy and a 67-year-old woman.
A total of 30 people have been injured, including 20 men and 9 women, aged from 18 to 85 years.
Among the injured is an 11-month-old boy, the sibling of the deceased child.
The condition of most of the injured is moderate, with a few classified as minor patients.
"Most of the injuries are explosive traumas, shrapnel wounds to the arms, legs, face, and hematomas. Two of the injured have a sharp stress reaction," wrote the head of the Regional Military Administration.
The Prosecutor's Office has initiated a pre-trial investigation into violations of the laws and customs of war.
For all the details of the Russian missile attack on Kharkiv, refer to the RBC-Ukraine report.