Assessment of Russian troops' breakthrough to right bank of Dnipro in south: Possible or not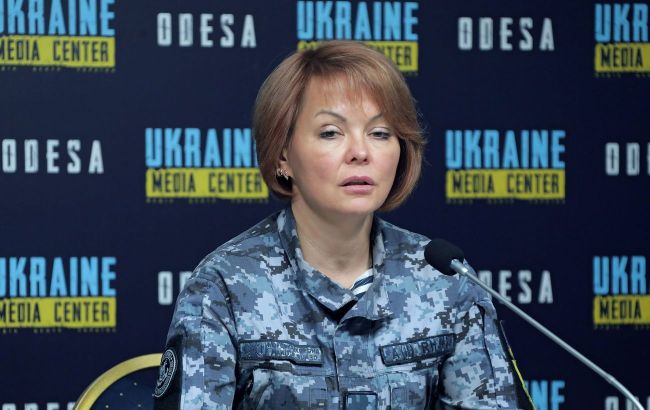 Natalia Humeniuk, head of the United Coordinating Press Center of Security and Defense Forces of the South of Ukraine (Photo: Getty Images)
Russian sabotage groups are attempting to maneuver in the temporarily occupied part of the Kherson region, with Ukrainian forces successfully eliminating enemy sabotage and reliably holding defense in the Dnipro River area, Natalia Humeniuk, the Head of the United Coordinating Press Center of Security and Defense Forces of the South of Ukraine, stated.

Humeniuk noted that due to the firm and dense defense of the Armed Forces of Ukraine (AFU), Russian occupiers do not have the opportunity to move from the left bank of the Kherson region to the right, and such a scenario is "not considered by adequate people."
However, Humeniuk emphasized that the occupiers could still attempt such an action.
"We understand that we are dealing with a rather inadequate enemy. Our defense is quite dense, and the enemy's advance is not foreseen," said Humeniuk.
The representative of the Armed Forces of Southern Ukraine also commented on the actions of Russian reconnaissance and sabotage groups in this part of the front and the repulsion of enemy attacks by the AFU.
According to Humeniuk, the invaders, in particular, are trying to simulate activity in the area of the islands, where Ukrainian defenders destroyed seven boats over the past day that Russian sabotage groups attempted to maneuver.
Increased enemy air raids and artillery shelling on settlements in the western part of the Kherson region are associated with the occupiers' fears about the accumulation of forces and means of the AFU "immediately before a certain advance in their direction."
Repelling attacks by Russian sabotage groups
The enemy sabotage groups periodically try to penetrate Ukrainian-controlled territory, and such cases are most often recorded in the Kherson, Kharkiv, Chernihiv, and Sumy regions.
For example, on October 4, it became known about the destruction by Ukrainian soldiers of 3 boats with reconnaissance and sabotage groups of occupiers in the southern direction.
On September 25, in the Kupiansk district of the Kharkiv region, while building a fortification line on the Russian side, the invaders infiltrated Ukrainian territory and began constructing fortifications near the border. However, the "Steel Border" brigade, together with the AFU soldiers, displaced the occupiers beyond the boundaries of Ukraine.
On August 1, a Russian sabotage group attempted to break into Ukrainian territory in the Chernihiv region.