App Store Awards 2023: Apple reveals list of most useful apps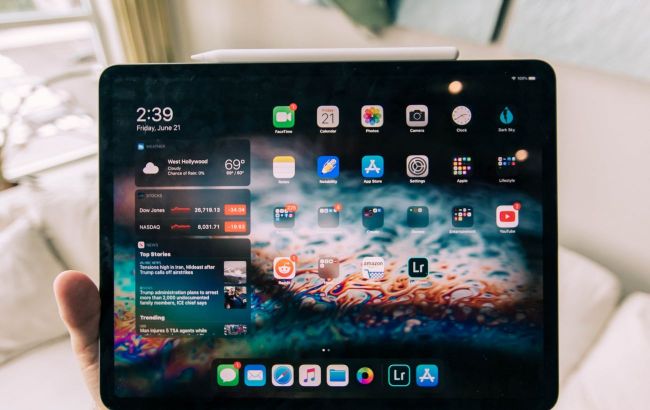 Finalists of App Store Award 2023 (photo: Unsplash)
Every year, Apple selects the best apps for iPhone, iPad, Mac, Apple Watch, and Apple TV as part of the App Store Awards. The year 2023 is no exception, according to Apple Developer.
The jury has already compiled a list of finalists for the Apps of the Year:
iPhone Apps of the Year
AllTrails: An app for running, cycling, and hiking enthusiasts that allows users to create routes and track their results.

Duolingo: A well-known language learning service featuring a cute owl character that many users find endearing.

Flighty: A flight monitoring service that includes a feature for predicting possible delays due to weather conditions.
iPad Apps of the Year
Concepts: A digital notebook for creating vector drawings and notes.

DaVinci Resolve: A powerful software for video editing, sound processing, and creating visual effects.

Pret-a-Makeup: An app where users can experiment with makeup by applying cosmetics of different colors and textures to a face chart before applying them to the face.
Mac Apps of the Year
Linearity Curve: A graphic editor with artificial intelligence features, formerly known as Vectornator.

Photomator: A photo editor from the creators of Pixelmator, competing with Lightroom and supporting over 600 RAW photo formats.

Portal: An app with white noise and attractive visual design.
Apple Watch Apps of the Year
Planny: A task planner that integrates task lists with the calendar.

SmartGym: A fitness app that creates personalized workout plans and helps track their effectiveness.

Tide Guide: An app for monitoring tides, sunset times, and weather conditions, useful for surfers, beach enthusiasts, or those who enjoy being near the water.
Apple TV Apps of the Year
Bugsnax: A game where players embark on a journey to an island inhabited by mysterious creatures resembling tasty snacks.

FitOn: A workout and weight loss assistant app that provides free exercise videos and personalized workout plans.

MUBI: A streaming service that offers access to quality films from renowned directors and emerging talents in cinema.
iPhone Games of the Year
Afterplace: An indie adventure with an open world filled with mysteries, treasures, and monsters.

Honkai: Star Rail: A turn-based role-playing game from the Chinese company HoYoverse, known for Genshin Impact.

Vampire Survivors: A survival roguelike game that appeared on PC in early access in 2021 and became a popular Steam hit in early 2022.
iPad Games of the Year
Eggy Party: An action game in the style of Fall Guys, where players perform simple and comical tasks with other participants.

Lost in Play: An adventure game with puzzle elements, where the player accompanies a brother and sister on a journey through a fantastical world in search of their way home.

Pocket City 2: A sequel to the popular city-building simulator, now in a three-dimensional format.
Mac Games of the Year
ELEX II: An open-world role-playing game in a vintage post-apocalyptic style.

Lies of P: A soul-like game inspired by the tale of Pinocchio.

Return to Monkey Island: The long-awaited final episode in the classic game series.
Apple Arcade Games of the Year
Cityscapes: Sim Builder: A city-building simulator where the player acts as the mayor of the city and must make decisions to improve the lives of citizens.

Hello Kitty Island Adventure: A cozy and cute life simulator featuring the popular mascot.

Stitch.: A casual puzzle game where you need to stitch step by step using numbers.
Cultural Impact
Apps and games in this category contribute to positive change.
balance - Menopause Support: An app that helps track menopausal symptoms and provides information about this condition.

Copilot: A budget planning and expense monitoring service.

Endling: A role-playing game where a mother fox must fight for the survival of her offspring after an environmental catastrophe.

Finding Hannah: A hidden object game about a girl who has a comfortable life but lacks a sense of happiness. Together with the player, she must better understand herself and discover what it means to be happy.

How to Say Goodbye: A game about the journey of a person who has transformed into a ghost and finds themselves in a world populated by disoriented spirits.

Pok Pok Playroom: A children's game based on the Montessori methodology.

Proloquo: An app designed for non-speaking children and adults that helps them master alternative communication methods.

Rebel Girls: An app offering inspiring audio stories about great women, including Frida Kahlo, Greta Thunberg, and Malala Yousafzai.

Too Good To Go: An app that allows users to purchase products from restaurants or stores with a high discount that would otherwise be discarded due to approaching expiration dates.

Unpacking: A meditative simulation game about moving, where the player, through eight moves, learns about the life of a character who never appears on the screen. In 2022, the game received two BAFTA Games awards.
Earlier, we wrote that iPhone may lose its primary priority among other smartphones.