Anti-Russian sentiment growing sharply in occupied Crimea - Resistance Center reveals reason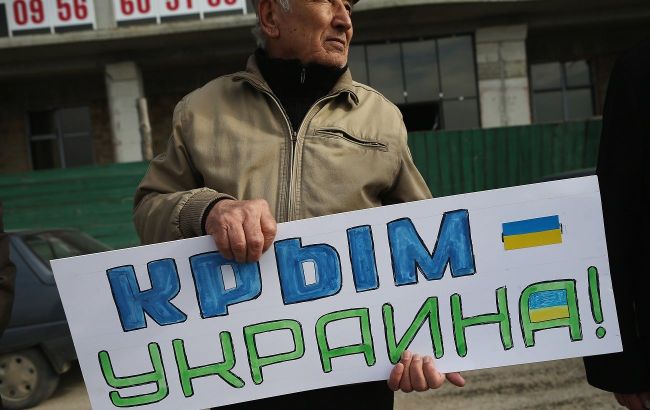 More and more people in Crimea are dissatisfied with Russian occupation (Photo: Getty Images)
In the temporarily occupied Ukrainian Crimea by Russian aggressors, there is a sharp decline in the level of support from citizens for the representatives of the occupation "authorities," as well as a rise in anti-Russian sentiments, according to the National Resistance Center (NRC).
After disappointing results of sociological research commissioned by the administration of Russian dictator Vladimir Putin on the occupied Ukrainian peninsula, henchman Sergey Aksyonov has caused dissatisfaction among Moscow curators.
In response, the so-called head of the occupation administration in Crimea sent his "analytical" report to Moscow on the reasons for the increase in anti-Russian sentiments, as mentioned in the publication.
According to Aksyonov, the main reason for this situation in Crimea is the worsening economic crisis, mainly due to sanctions from Western countries leading to increased prices for essential goods in pharmacies.
"The key problem is the reorientation of the peninsula's resources to meet the military needs of the Russian Armed Forces. For example, the shortage of certain types of medicines is due to the fact that, first of all, medical care is provided to wounded Russians in hospitals," noted the Center.
Additionally, Crimea is experiencing a significant labor shortage due to the male population's mobilization. For instance, in the agricultural sector, the labor shortage is 77%.
The recently resigned "Minister of Energy and Fuel" of Crimea, Igor Korin, was held responsible by Aksyonov for the rise in fuel prices and, consequently, the prices of essential goods.
"The Ukrainian resistance movement will continue to complicate the lives of local collaborators," emphasized the NRC.
Previously, it was reported that occupiers in Crimea are persecuting locals who oppose their regime, with Russia providing all possible opportunities to "law enforcement" for this purpose.