Antalya is developing diving tourism: Things you can see underwater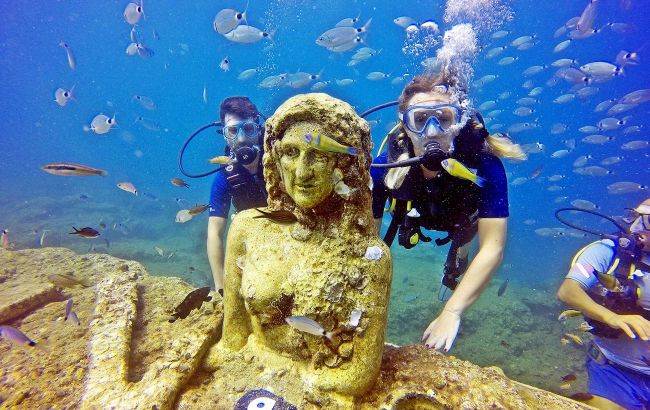 Underwater Museum in Side (facebook.com/sideunderwatermuseum)
Türkiye's most popular tourist region of Antalya plans to boost diving tourism as the influx of underwater enthusiasts has decreased this year.
Tourism companies are strategizing to make these tourism routes more captivating, with the aim of transforming the location into one of the world's most alluring destinations, according to hurriyetdailynews.com.
While 80,000 tourists dived at a total of 222 diving spots in the southern province last year, this number dropped to 55,000 in the first nine months of the year. This decline in interest has raised concerns among local tourism companies who are now aiming to revamp the routes and attract more divers.
Typically, the city sees up to 1,000 dives per day during the diving season. Special guides are employed to help visitors explore underwater treasures. Diving companies accompany tourists to selected diving spots on private boats and provide preliminary training. Dives are also accompanied by underwater video and photography.
Diving enthusiasts are primarily drawn to the following locations:
The French Socialite Shipwreck near the historic yachting harbor of Kaleici in Antalya.
The sunken ship Saint Didier from World War II.
The Paris Shipwreck at a depth of 25 meters.
The Underwater Museum of Side.
After experiencing a single dive, divers return to the city each year to explore different locations. The average cost of such an underwater excursion is approximately $100.
The Kemer Association for Underwater Conservation and Beautification notes that local associations and businesses are planning to strengthen the city's diving routes with various projects to attract more visitors.
We previously discussed whether it is safe to travel to Egypt and Jordan. The foreign ministries of the UK, USA, and Australia have deemed these countries safe for travel.