Amazon launched Project Kuiper satellites into space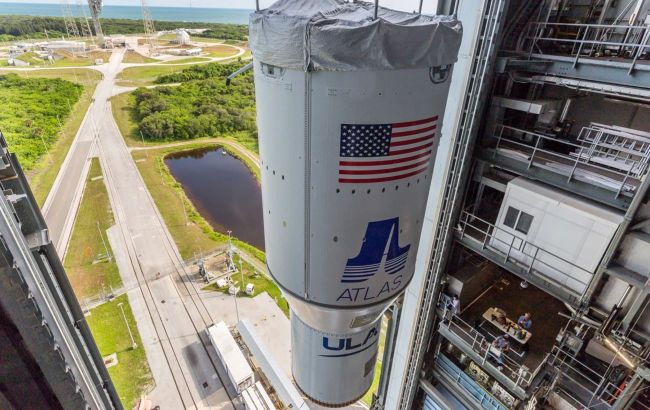 The first Amazon satellites have launched into space (photo: aboutamazon.com)
Amazon has launched the first internet satellites of Project Kuiper. The company hopes to compete with Elon Musk's SpaceX in this endeavor, according to a video broadcast on YouTube.
Project Kuiper aims to become a competitor to the Starlink service. SpaceX has launched nearly 5000 satellites into orbit and plans to increase that number sixfold in the future. Amazon intends to send 3200 satellites into space within six years to form a constellation capable of providing internet connectivity even in remote areas that are inaccessible to traditional providers.
"We've conducted extensive testing here in our lab and have a high degree of confidence in the design of our satellite, but nothing can replace on-orbit testing. Amazon is launching satellites into space for the first time, and we're going to gather an incredible amount of data, regardless of how the mission unfolds," said Rajeev Badyal, Vice President of Technology for Project Kuiper, in a statement.
The KuiperSat-1 and KuiperSat-2 satellites will allow the company to conduct a series of tests that will provide valuable real-world data to complement the information already collected in the lab. The Project Kuiper ground team will also have the opportunity to monitor the network's performance as Protoflight tests the satellite connection to the Kuiper ground network and customer terminals. Additionally, this will serve as a trial launch for the next set of satellites.
LAUNCH! ULA's Atlas V 501 launches with the Amazon Project Kuiper Protoflight from SLC-41.

LIVE: https://t.co/Psx631QjmJ pic.twitter.com/UJCoFj2BbW

— Chris Bergin - NSF (@NASASpaceflight) October 6, 2023
The Kuiper system comprises three key elements: advanced broadband LEO satellites, affordable customer terminals, and a secure, resilient ground communication network. The Protoflight mission is testing all three components as well as the commands and systems that control them.
"I'm proud of the entire Project Kuiper team for getting us to this point and grateful for their contributions. The hard work involved in building a new space system from scratch is immense, but this team has dedicated themselves to the goal of providing affordable broadband connectivity to those who need it," said Badyal.
MISSION SUCCESS! United Launch Alliance's #AtlasV has launched two prototypes of #Amazon's #ProjectKuiper broadband satellite constellation.

Success #158 for ULA: https://t.co/h9EoQnZI6g pic.twitter.com/nAV9QqjguI

— ULA (@ulalaunch) October 6, 2023
Amazon has designed the Kuiper system to enable continuous improvement, allowing satellite production to run in parallel with the Protoflight mission.
"We will apply the knowledge gained during the mission to enhance our hardware, software, and infrastructure. Our initial production satellites are preparing for launch in the first half of 2024, and we expect to commence beta testing with the first commercial customers by the end of 2024," Amazon stated.
Amazon's competitors
In September 2023, Elon Musk's SpaceX launched 22 mini-satellites for the Starlink system into orbit.
As of October 6, 2023, there are 926 Starlink satellites in space, with 904 of them operating in their designated orbits. The remaining 22 were deployed into orbit during the latest launch, which took place on July 24, 2023.
SpaceX has ambitious plans to launch approximately 30,000 more Starlink satellites to provide global internet coverage.