Albania supports Ukraine's accession to NATO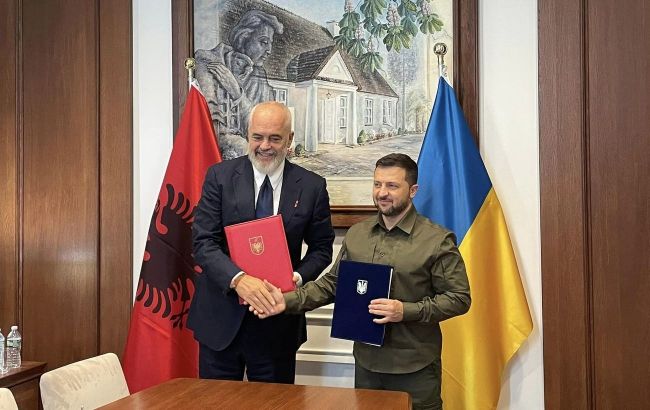 Prime Minister of Albania Edi Rama and President of Ukraine Volodymyr Zelenskyy (Photo: facebook.com/igor.zhovkva)
Albania signed a declaration in support of Ukraine's NATO membership during a meeting between Albanian Prime Minister Edi Rama and Ukrainian President Volodymyr Zelenskyy, according to the Deputy Head of the Office of the President, Igor Zhovkva.
"Albania, currently serving as a non-permanent member of the UN Security Council and a NATO member since 1999, has become the 25th country to formalize its clear support for Ukraine's membership in the Alliance," Zhovkva wrote.
According to him, the declaration states that:
Albania supports Ukraine's membership in NATO and remains fully committed to supporting Ukraine on its path to full Euro-Atlantic integration.
Albania is ready to provide political, military, technical, defense, and humanitarian support to Ukraine within the framework of bilateral and international cooperation. Albania will support Ukraine as much as needed.
Albania recognizes that Ukraine's security is of great importance to NATO member countries and the Alliance as a whole, and commits to participating in Ukraine's recovery efforts after the war.
Ukraine's NATO membership
Ukraine aspires to become a member of the North Atlantic Treaty Organization (NATO) to prevent any future aggression by Russia after the current conflict concludes.
In July, during a summit of NATO member countries, it was decided to allow Ukraine to become part of the Alliance without fulfilling the Membership Action Plan (MAP). However, it is expected that Ukraine will receive an official invitation to join NATO during the next NATO summit, scheduled for 2024 in Washington, D.C.