Airplane crash near Zhytomyr: Investigators consider three versions of the tragedy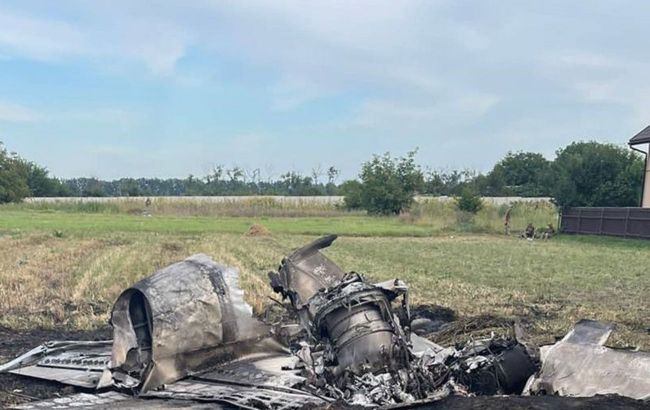 Investigation is considering three versions of the plane crash near Zhytomyr (Photo: t.me/DBRgovua)
The investigation is examining three possible versions of the aviation catastrophe in the Zhytomyr region, which resulted in the death of the well-known Ukrainian pilot Andrii Pilshchykov, call sign "Juice," according to Tetiana Sapiyan, the communication advisor of the State Bureau of Investigations.
She noted that the State Bureau of Investigations (SBI) will thoroughly investigate all details of the aviation catastrophe and promises to conduct a meticulous check to determine the tragedy's causes.
According to her, experts from the General Staff of the Armed Forces of Ukraine and the Air Force Command will be involved in the investigation.
"As for the possible versions, you mentioned that the primary qualification violates flight rules or preparations for them. And indeed, there are penalties for this in the Criminal Code. However, currently, the investigation will consider versions such as technical malfunction of the aircraft, pilot error, and a third version - violations in organizing flight operations," she said.
Sapiyan added that to prove one of these versions, it is necessary to conduct numerous examinations that cannot be done in a single day. This includes forensic medical examinations and analysis of black box recordings. Overall, this involves a comprehensive judicial aviation-technical review.
"We expect that these examinations will provide the investigation with an understanding of how this happened. But we understand that some time has passed since the 25th and until today. And now, based on the preliminary circumstances, the catastrophe occurred due to a collision between two aircraft during a turning maneuver. This is crucial. We have received fresh information from investigators that complements our informational context," she said.
Air crash near Zhytomyr
On August 25, two L-39 aircraft collided in the Zhytomyr region. As a result of the accident, three Ukrainian pilots were killed.
Yurii Ihnat, the spokesperson for the Air Force, informed that the timeframe for the investigation of the aviation catastrophe in the Zhytomyr region is currently unknown. It could take up to six months.
More about the deceased pilot "Juice," who was well-known in Ukraine and abroad - in the material by RBC-Ukraine.