5 Most magnificent vintage cars sold by Ukrainians from private collections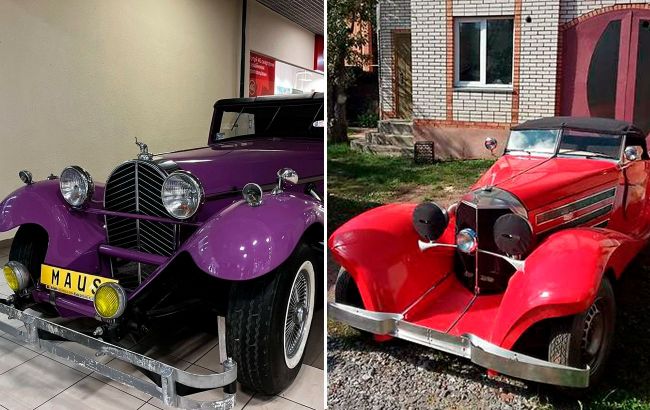 Ukrainians are selling unique vintage cars (photo: RBC-Ukraine)
Ukrainian car enthusiasts have assembled unique personal collections of vintage cars. Currently, several cars that are over 80 years old are available for sale.
RBC-Ukraine analyzed the "retro cars" category on the Auto.ria website and is sharing with readers some of the most striking vintage cars that Ukrainians are currently selling.
1937 Hudson Custom Eight
This is the only 1937 Hudson Custom Eight in Ukraine. The owner from Lutsk mentions that the car has undergone restoration. It features a wooden steering wheel, central locking, a computer, and multi-channel LED underbody lighting. Such a car is priced at $35,000.
The Hudson brand existed from 1909 to 1957. The company produced cars in the medium and high-end segments.
This is the only Hudson Custom Eight model in Ukraine (photo: auto.ria.com)
Moskvich-401 convertible
An automobile owner from Mykolaiv has put his Moskvich-401 convertible up for sale. In the listing, he mentions that the car is in excellent condition after restoration. The entire technical part is original, and the seats are from BMW. He has priced his car at $10,000.
The Moskvich-401 is an improved version of the Moskvich-400 and was produced from 1954 to 1956. During that time, it was priced at 9,000 rubles.
The entire technical part in this car is original (photo: auto.ria.com)
Mercedes-Benz 540 K 1938
The seller did not leave any information about this car. All we know is that it is priced at $20,000 and is being sold in Vinnytsia.
This is a large and luxurious coupe. This model represented the pinnacle of the pre-war production from the German automaker Mercedes-Benz. It was manufactured from 1936 to 1940.
The price of this car is $20,000 (photo: auto.ria.com)
Bugatti 1938
The owner from Kyiv has stated in the listing that they are selling a unique vintage car from their own collection. The car is in excellent condition after a complete restoration, featuring an expensive leather interior and is fully operational. Its price is $20,000.
The vintage car is in excellent condition (photo: auto.ria.com)
Hot Rod 1939
The car owner from Brovary has valued his designer convertible with a powerful engine at €7,300. He also noted that the chassis is in excellent condition and has been reinforced with a roll cage.
It should be noted that these are high-speed vehicles designed to achieve maximum possible speed. The origin of the term "hot rod" remains somewhat unclear, but it became widely used in the 1930s and 1940s to refer to a car with a modified and high-powered engine.
This vintage car is in excellent condition (photo: auto.ria.com)