16 people killed: Zelenskyy reacts to Russian attack on Kostiantynivka market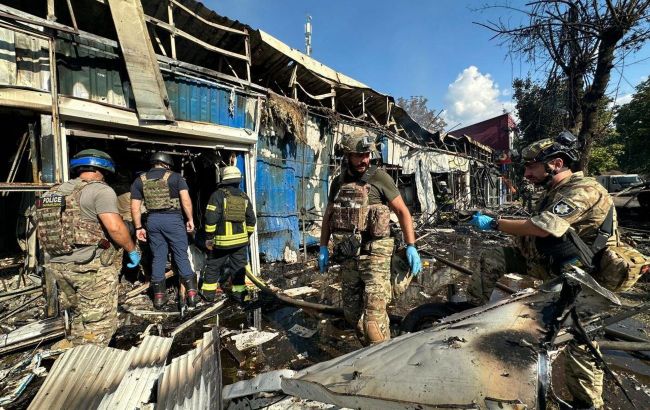 Zelenskyy reacts to Russians attack on market in Kostiantynivka ( (t.me/Klymenko_MVS)
At least 16 people were killed, and 31 others were injured in the latest Russian missile attack on Kostiantynivka in the Donetsk region of Ukraine, according to President Volodymyr Zelenskyy.
"At this moment, the attack by Russian terrorists has killed 16 people in the city of Kostiantynivka, Donetsk region. A regular market. Shops. A pharmacy. People who did nothing wrong. Many wounded. Unfortunately, the number of casualties and the injured may rise," he wrote.
The president expressed condolences to all those who lost their loved ones and called for the fast defeat of Russian aggression.
"When someone in the world still attempts to deal with anything Russian, it means turning a blind eye to this reality. The audacity of evil. The brazenness of wickedness. Utter inhumanity," Zelenskyy added.
Prime Minister Denys Shmyhal reports that among the 16 casualties, there is a child. Additionally, at least 20 people have been injured.
He notes that the fire following the shelling has already been contained.
The Donetsk Regional Prosecutor's Office reported that the number of victims as a result of the attack increased to 31. 20 shops, power lines, an administrative building, and the 5th floor of a residential building were also damaged. Cars and 8 shops were burnt to the ground.
Shelling of Kostiantynivka
Local reports today indicated that the Russians shelled the Central Market in Kostiantynivka.
According to preliminary information, the aggressors conducted the shelling using the S-300 system.