14 sq kilometers of territory liberated by Armed Forces in a week, says Ministry of Defense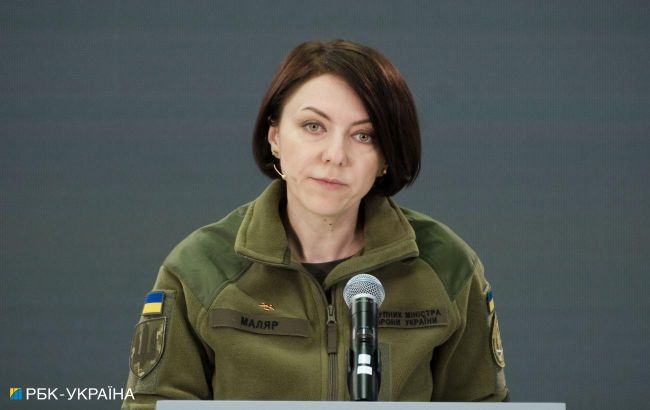 Hanna Maliar, Deputy Minister of Defense of Ukraine (Photo: Vitalii Nosach/RBC-Ukraine)
Ukrainian Defense Forces have made significant advancements in the past week, gaining territory in the east by 4 square kilometers and in the south by 10.2 square kilometers, according to Deputy Minister of Defense Hanna Maliar.
She adds that Russian forces launched 39 missile strikes and 334 airstrikes against Ukraine during the past week.
Situation in the East
As a result of improved operational and tactical positions and the alignment of the front line, Ukrainian military forces have liberated 24 square kilometers in the past week, with a gain of 4 square kilometers.
Overall, on the Eastern front, there has been a recorded increase in the number of shelling incidents, reaching 7,184. The occupiers used a total of 343,402 artillery and rocket projectiles.
Situation in the South
In the past week, Ukrainian forces have made advancements by pushing deeper into enemy-held territory in certain areas.
The liberated area amounts to 168.6 square kilometers, with a gain of 10.2 square kilometers in the past week.
In the Tavriyskyi direction, a total of 4,318 enemy shelling incidents were recorded during the previous week.
Ukrainian military forces performed:
More than 79 strikes in areas where Russian personnel are concentrated.
Strikes on 8 command posts.
Strikes on 17 electronic warfare stations.
Strikes on 11 enemy ammunition depots.
Destruction of 24 enemy anti-aircraft missile systems.
Destruction of 39 out of 67 "Shakhed" drones.
Ukraine's counteroffensive
Ukrainian military forces initiated counteroffensive operations in early June. However, Western media reports indicate that the advance is progressing slower than expected.
ISW analysts noted that Ukrainian fighters deliberately maintain a slower pace of advancement during the counteroffensive to preserve combat strength and deplete Russian forces and their equipment reserves.
However, the Chief of the Defense Intelligence of Ukraine, Kyrylo Budanov, is confident that the large-scale counteroffensive will be successful.