Ukraine's Minister of Digital Transformation on Musk, smart mobilization and technological war against Russia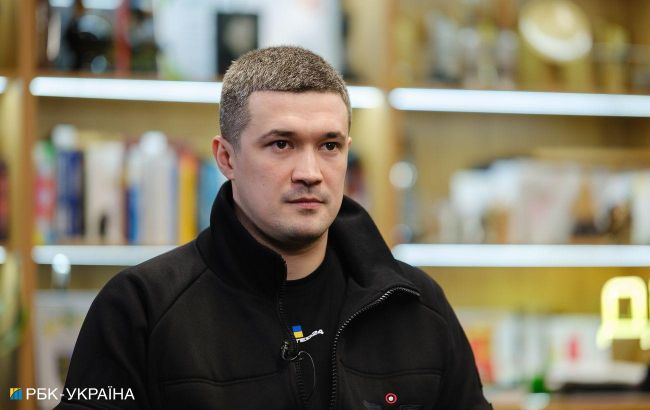 Photo: Mykhailo Fedorov, Deputy Prime Minister, Minister of Digital Transformation of Ukraine (all photos: Vitalii Nosach, RBC-Ukraine)
In an interview with RBC-Ukraine, Deputy Prime Minister and Minister of Digital Transformation of Ukraine, Mykhailo Fedorov, discussed issues related to drone production, technological warfare against an aggressor country, Elon Musk, new services in Diia (a Ukrainian government service platform), an electronic registry of military conscripts, education reform, and secure messengers.
This is an abridged version of the interview. The full conversation you can see below in the video.
During the 2019 presidential elections, Mikhailo Fedorov led the digital direction of the campaign for candidate Volodymyr Zelenskyy. In the fall of the same year, he was appointed as the Deputy Prime Minister and Minister of Digital Transformation of Ukraine, becoming the youngest member of the Cabinet of Ministers in Ukrainian history.
Since then, Fedorov has been working in the government, remaining in his position throughout President Zelenskyy's entire term. One of the most well-known and prominent projects under the Ministry of Digital Transformation, under his leadership, is the Diia service, which has simplified access to a multitude of government services for Ukrainians and attracted interest from governments in many other countries.
However, Fedorov's sphere of activity extends beyond digitalizing government processes and providing electronic services to citizens. In his current role, he actively focuses on the development of military technology (miltech). As part of the Army of Drones project, the Ukrainian military has received thousands of drones of various types and purposes.
Fedorov revealed in an interview with RBC-Ukraine that this year the Ukrainian Armed Forces received over 100 times more drones - one of the key technologies in the Russian-Ukrainian war.
"It's essential to understand that this is a technology war. Today, drones, electronic warfare, protection of our equipment from enemy drones, situational awareness systems, and satellite communication are crucial components of technological warfare. Maximum deregulation and market openness are needed here so that businesses can secure contracts, create products, and scale production," Fedorov says.
At the same time, Fedorov acknowledges that Ukraine is still lagging behind in certain areas where the aggressor country has the upper hand, such as in electronic warfare. There hasn't been systematic production of standoff munitions that could compete with Russia's Lancet missile. "Today, there are already nearly a dozen companies developing similar technologies, but they have not yet transitioned to mass production. However, it's a matter of months before we also catch up with Russia in this direction," says the Minister of Digitalization.
He believes that the key to success lies in involving businesses in the production of drones and other military technology, as no state structure can produce more products than a private entrepreneur.
"Everything changes rapidly, and only entrepreneurs can quickly respond to such changes and scale production. This is demonstrated by the experience of World War I and World War II when the most progressive manufacturers were mobilized, and they were given all the opportunities to generate new technologies for victory," Fedorov explains.
One of the critical technologies helping Ukraine resist Russian aggression is Starlink, a satellite internet service provided by Elon Musk's SpaceX. Fedorov has had direct communication with Musk on this matter. Elon Musk has been regularly commenting on the topic of the Russian-Ukrainian war recently, and his comments usually provoke a wave of outrage in Ukraine. For example, Musk believes it is possible to compromise by giving up a part of the occupied Ukrainian territory in order to achieve peace.
"I find it convenient to separate Musk into two personas – one who provides many Starlink services, rapid logistics, and the best prices – and the other Musk in X.com, who makes statements that we do not support, just like everyone in Ukraine. It's bizarre for us to hear what he says.
So I will be talking about the first Musk, who helps with Starlinks. Today, Starlinks are operational, and there are no issues with them. We are working with SpaceX and their product, Starlink. So everything is progressing smoothly. Even before the upcoming cold weather and new possible challenges, we will be receiving new batches that we purchase through our Polish colleagues, but still, being in communication with SpaceX," comments Fedorov.
Another significant project he is working on is the creation and launch of an electronic registry for conscripts. Unlike most other areas, the work of Territorial Centers for Conscription and Social Support (TCCSS) that register conscripts hasn't changed significantly since the 1990s and has been a source of complaints from ordinary citizens.
Fedorov aims to change this by digitizing the data of Ukrainian conscripts, making life easier for both TCCSS staff and conscripts. "Everything will be structured in such a way that when a person comes to a TCCSS, their information is already in the system. Essentially, it's the automation of TCCSS operations, eliminating queues, windows, and so on. This is about the service within TCCSS. From another perspective, it's about high-quality data that allows the Armed Forces and the Commander-in-Chief to make management decisions, such as how many people to mobilize, whom they need, and so on," Fedorov explains.
Another pilot project the Minister plans to launch in one or two months is smart mobilization. The idea is that Ukrainians interested in serving in the Armed Forces will be able to independently choose their military specialization, take relevant tests, communicate with recruiters, undergo training, and ultimately end up in the army in the position they have chosen for themselves. "When we achieve this, we'll see how many people will be mobilized on their own, how they will go through the selection process, how they will serve, and the quality of their service, how motivated and effective they will be. This may be the first pilot, the first step, to launch a similar concept of smart mobilization," Fedorov states.