Shelling in Avdiivka and 60,000 km of war - Story of a lawyer who became a volunteer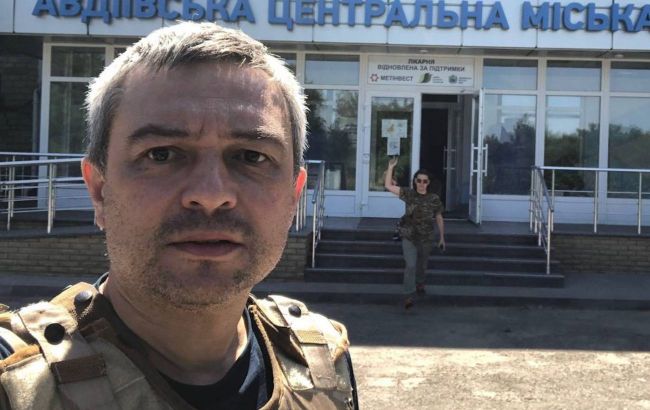 Andrii Vdovychenko (Photo from personal archives)
Before the large-scale invasion, Andrii Vdovychenko worked as a lawyer, handling civil and commercial cases in court. However, the outbreak of the major war drastically altered the course of his life, drawing him into the realm of volunteering. He shared his experiences on the path of volunteering, including firsthand accounts of navigating perilous routes, exposure to shelling, and the challenges of being a lawyer amidst the chaos of war, in an exclusive interview with RBC-Ukraine.
On February 24
I expected a major war. So, on February 19, I moved my family to Western Ukraine, where I met the war onset. The panic among the locals in a small town was striking; people were literally clearing out everything from the stores. I tried to find a way to participate in resisting the occupiers, but volunteers weren't needed due to an excess of offers. Therefore, on the 27th, I went to a territorial recruitment venter (TRC).
Later, we headed to a training ground, but the doctors rejected me due to my health condition, even refusing me as a lawyer. On March 5, I returned to Kyiv with the medical battalion "Hospitaliers," driving an ambulance. After that, I continued volunteering, joining various organizations in Kyiv, and eventually becoming a volunteer for the public organization Vatra.
On trips to the hot spots
Kyiv looked unusually empty in March 2022, just like Mykolaiv in April 2022, when it was still under daily shelling. I provided aid in Avdiivka, Barvinkove, Parutyne, Bereznehuvate, Zaporizhzhia, Kramatorsk, Kostiantynivka, and Nikopol when things were intense. I also volunteered in Sumy, Kharkiv, and Kherson.
On the first trip to Kramatorsk, I was driving. At the last checkpoint, I asked a female police officer, "What's ahead, should I put on a bulletproof vest?" She replied, "Well, I would." So, I put it on. As I drove, I saw truck drivers and soldiers wearing just T-shirts in the summer heat. As I approached Kramatorsk, I took mine off to avoid embarrassment.
Photo: Andrii Vdovychenko (from personal archives)
Regarding the number of kilometers traveled during my volunteering missions, in March 2022, I volunteered in Kyiv with the public organization Vatra, driving my father's Nissan Leaf and covering 3,000 kilometers. Since April 2022, I've driven 50,000 kilometers with the volunteer bus. I also transported 3 off-road vehicles and 4 pickups from Poland to different locations in Ukraine for our guys. I believe that I've covered no less than 60,000 kilometers overall.
On encountering shelling
Once, the three of us were delivering medicine to Avdiivka hospital and got caught in mortar shelling on the way. Fortunately, one of our team members had experience reacting in such situations. We stopped, put on our bulletproof vests and helmets, and lay on the grass, listening carefully. If you heard a whistling sound, it meant the shell was passing further away; if not, it was close to us, so we had to turn our faces to the trees and place our feet toward the potential blast. You could see the grass being cut by shrapnel right next to you.
Later, we crawled to a shelter and stayed there for three hours, hoping that we wouldn't get a direct hit. Eventually, they asked me, "You're the driver, can you bring the bus closer to evacuate two other volunteers?" So, I ran, sat behind the wheel, and drove them to safety. We returned to the starting point that day, but the next day, we managed to reach Avdiivka.
On the challenges of being a military volunteer
Being a military volunteer involves risks of getting caught in shelling or encountering landmines along the way. Furthermore, on recently liberated territories or in combat zones, bridges are often destroyed, and GPS devices confidently direct you to cross rivers using nonexistent bridges. Then begins the quest known as the "find a detour" game. "A safe one."
For instance, once in the Kharkiv region, Vatra advised us to drive through a settlement that was still under active fighting. Luckily, we double-checked when we got closer to the area.
During off-road vehicle transfers, breakdowns happen. Twice, the pickups broke down on the way, and we had to tow them to repair shops, and I drove the pickups from Poland, never turning off the engines due to difficulties starting them.
Photo: Andrii Vdovychenko (from personal archives)
In my opinion, the issue of volunteerism lacks adequate regulation at the legislative level. Ukraine's "Volunteer Activity Law" is quite vague and doesn't provide clear regulations on the rights, responsibilities, and possibilities for volunteers. Unfortunately, scammers posing as volunteers also undermine trust in genuine volunteers, as they deceive people into giving money and then disappear.
On the first days after the liberation of the Kharkiv and Kherson regions
Kharkiv region - Izium and Balakliia: together with Vatra, we arrived there on the 5th day after the liberation. On the way, only our troops, tired but happy, could be seen. And our white volunteer van joined this movement.
Incredible feelings of being closely connected to the general mood. People in the Kharkiv region are somewhat apprehensive and cautious, although many were waiting for the Ukrainian Armed Forces.
Kherson region - a completely different story. It is the only region I visited after liberation, where people asked for Ukrainian flags, communicated mostly in Ukrainian, and sincerely rejoiced at the liberation, everyone I met.
Photo: Andrii Vdovyhenko (from personal archives)
On legal work
During the invasion, I hardly engaged in legal work, accompanying processes that started before the war, taking up only 1% of my time. For me, the most important thing is to fight the eternal enemy.
Since childhood, I dreamt of being a "long-distance trucker," but now I've tried it in practice, earning long-distance trucker's diseases, one of which I can't seem to cure. So, I want to be useful to victory wherever I can.
On defending a soldier in court
I helped a Ukrainian soldier win a case in court for free when a Russian insurance company tried to claim 300,000 hryvnias for a road accident that occurred while he was moving to the combat zone in the Kyiv region in April 2022. It was a matter of principle for me: our soldiers defend Ukraine from Russian aggressors, who, in the form of an insurance company, try to finance their aggression.
On attitudes toward the Ukrainian language
From birth until 40 years old, I was a Russified Kyiv resident. Two years ago, I took steps toward Ukrainianization, losing friends on the way and not regretting it. The final rejection of Russian came with the birth of my child, even before full-scale thinking that we are Ukrainians. Now, I sincerely don't understand all those who are still Russified.
On the rear and the army
I saw our soldiers on the frontline, their eyes, their gaze, their confidence, their spirits. When you greet and embrace the soldiers you meet for the first time, it feels like you've known them for a hundred years because they are all our own, our kin.
Sometimes, it is even more important for our soldiers to feel support, to see that the rear stands with them when volunteers come to visit them, to tell them about how things are back home and how many enemies they've defeated, rather than what material goods they bring. It is precisely in these moments that the strongest unity between the rear and the frontline is felt. And when they thank you, you think, "God, and they are thanking us while being here, on the frontline, under constant shelling, in such conditions, on the brink of life and death… We are infinitely grateful to them, and there are no words to express it adequately."