Olena Zelenska: We will experience consequences of the war for 5-7 years after the victory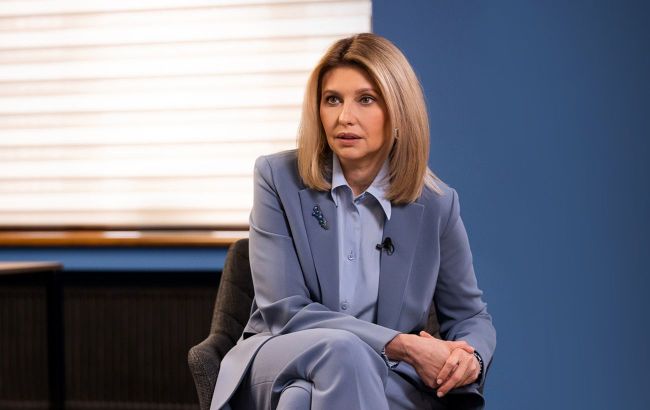 Olena Zelenska (All photos: press service of the First Lady)
Since the beginning of the full-scale war, Olena Zelenska has faced challenges uncommon for any first lady in the world. During her foreign visits, she engages in negotiations about military aid and missile defense systems instead of focusing solely on cultural and humanitarian projects.
In an exclusive interview with RBC-Ukraine, the First Lady talks about the projects she's involved in, whether she sees her future in politics, her thoughts on Ukraine's victory, and the possibility of unrest in Russia.
Regarding negotiations on the supply of weaponry to Ukraine, the First Lady explains that she never discusses offensive weapons during talks with representatives from other countries. Instead, she focuses solely on supplying arms to protect the civilian population of Ukraine. Before these discussions, she always consults with the diplomatic corps and the President's Office to determine what should be discussed and which armaments to request.
Zelenska recalls her recent trip to South Korea and her meeting with the country's President, during which she presented a list of military equipment necessary for Ukraine. "I couldn't just list the names of the weaponry and military technology. So, I provided the entire list translated into Korean to the President, and I verbally described what I wanted them to consider. Interestingly, during his meeting with Volodymyr Zelenskyy, the South Korean President referred to that list, compared it to what I had provided, and was pleased to see that the lists matched," Zelenska shares.
When asked about her first meeting with her husband after the war onset, during which they were forced to be apart for a month and a half, the First Lady reminisced that this was one of the most nerve-wracking moments for her in the past year and a half.
"When I was returning, honestly, I was anxious. I had only seen him on TV, witnessing his beard growth and what he had been through, how he had changed, and it made me somewhat nervous. Fortunately, nothing extreme happened, but initially, I felt there was a possibility that we might not meet at all. Such uncertainty is always present during times of war. And finally, we did meet," Zelenska recounts.
Another nerve-racking moment for the First Lady was her address to the U.S. Congress, where she made her first plea for weapons supplies to Ukraine.
"It's not typical of me, nor is it typical for the role of the First Lady. I understood that by inviting me to Congress, they were granting me carte blanche. But I had to reach the hearts of these people. And I sincerely hope I succeeded. I consider myself lucky that I spoke (as I always do) from the heart, saying what I truly think, and I tried to find the right words for it," Zelenska adds.
The First Lady assures that she doesn't influence state processes. Her initiatives are solely focused on humanitarian and social spheres.
"Volodymyr Zelenskyy, as the president, doesn't consult with me. And I think that's the right approach. Firstly, I wouldn't be able to offer him expert advice; there's a vast gap in knowledge between us right now. It would be unethical. I believe he bears such great responsibility. It's not appropriate for a wife to advise her husband on matters of state governance. It's not right," Zelenska explains.
She also clarified that she is frequently asked about her potential plans to enter politics in the future. However, she has no such ambitions.
"That's not my domain. For some reason, people have been asking me this question a lot lately. Someone must have come up with this idea – I don't know who. But I don't want this, I don't aspire to it. So, it will never happen," the First Lady states.
Speculating on our future victory in the war, Zelenska underlines that for Ukraine it means primarily a return to the borders of 1991. Secondly, it means bringing back all our people: prisoners of war, soldiers held captive, our children, and those who left the country.
"And the third component is justice. Without the establishment of an International Tribunal, without the work of the International Criminal Court, so that everyone who gave orders, those who executed them, not only receive a sentence but also punishment, I will not feel victorious. But I am confident that we can do all this," the First Lady states.
Zelenska does not believe that Russians can revolt against the war and Putin's regime. She believes there is genuine fear and helplessness there.
"In their majority, Russians probably fear discovering the horrifying truth about themselves. Because then you have to admit that you, too, are a monster, and you supported it. But still, this is not an excuse for fear and helplessness. I hear many conversations about how they will rise up soon, something will happen. I wouldn't hold my breath for that," Zelenska addes.
In her opinion, a revolt in Russia is only possible with the participation of dissatisfied elites pursuing material motives.
As a first lady, Olena Zelenska took on socially important and cultural initiatives to popularize Ukraine abroad. In a significant step toward cultural diplomacy, Zelenska has initiated a remarkable project that involves setting up Ukrainian bookshelves in various locations across the globe. These bookshelves serve not only as a means for foreigners to better understand our country but also as a valuable resource for Ukrainians living abroad.
Presently, approximately 44,000 Ukrainian publications, both in Ukrainian and the native language of the host countries, can be found in libraries across 39 nations.
Another commendable initiative by the First Lady is the introduction of Ukrainian-speaking audio guides in museums and historical sites worldwide. Currently, 67 audio excursions are available in 42 countries.
"Beyond its significance in promoting tourism, especially post the full-scale invasion, this endeavor has taken on a new meaning as a helping hand from Ukraine to our displaced compatriots residing abroad," explains Zelenska.
Besides, the First Lady is paying huge attention to Ukrainian children's issues and education in Ukraine during the war. Lots of efforts are now being made for returning our deported children back.
"I am convinced that we must not lose hope and do everything in our power to make this happen. Because it is truly a great tragedy for us, it involves our children, and we must bring them back. According to our social services data, Russia has taken out 19,500 children. The Russians claim there are even more. For me, it is truly puzzling why they are so focused on exaggerating the harm they have done to us," Olena Zelenska wonders.
The elder daughter of Olena Zelenska is a student. According to the first lady, she has chosen a legal specialty, and it was her own decision.
"It seems to me that she made a good choice because I look at her – she enjoys it, and it suits her, as they say. It comes naturally to her, without any tension; she excels at it. So, I hope she will continue on this path. However, we didn't put any pressure on her. Because I remember how I had almost no choice during university admission. And we wanted her to have the opportunity to spread her wings and choose independently," says Zelenska.
In her opinion, despite the war, education in Ukraine is at a high level. After the COVID epidemic, our teachers gained significant experience in organizing online learning. However, such learning also has negative impacts, particularly due to the amount of time children have to spend in front of a laptop and smartphone screens instead of engaging in face-to-face communication with their peers.
"But we should hope that we will gradually reduce the number of children who exclusively study online. For this purpose, there are currently many proposals from the Ministry of Education and other civil organizations to create shelters in schools, which are necessary for children to return to them. I believe that the Olena Zelenska Foundation will be implementing shelter projects among other initiatives this summer," adds the First Lady.
Currently, the Foundation is engaged in raising funds from foreign donors, philanthropists, and organizations to restore the Izium Hospital in the Kharkiv region, which was destroyed by the Russians. Zelenska hopes to see this project implemented within the year.
Additionally, the Olena Zelenska Foundation is commencing the construction of ten family-style foster homes for children – large foster families. This project has already been financed by the United Arab Emirates, and construction is set to be completed by the end of this year. The Foundation also organized a summer retreat in the Carpathian Mountains for the children from these foster homes.
Another one of Zelenska's initiatives is the establishment of a kitchen factory in Bucha with the support of Howard Buffett. In her view, this is an interesting approach to providing meals not only for schoolchildren but also for kindergartens and other government institutions. Zelenska states that one kitchen factory will produce 10,000 hot meals per day and can cater to three surrounding communities.
"This project is progressing well. We have already reached an agreement for the construction of a similar kitchen factory in Lozova in the Kharkiv region. We have secured funding for this project. The design phase will begin soon," explains the First Lady.
Howard Buffett is also assisting Ukraine in another project – he has made a significant contribution to the functioning of the Superhumans rehabilitation and prosthetics clinic in the Lviv region. The Foundation also collaborates with other foreign businesses and philanthropists, including James Temerty from Canada, Andrew Forrest from Australia, and businessmen from France and the UAE.
War is a challenge not only for our physical state but for our mental health as well. According to Olena Zelenska, there is a concern that the mental health and resilience of the Ukrainian people may deteriorate. She cites data from the World Health Organization, indicating that in the coming years, one in five Ukrainians will be at risk of developing mental health-related disorders.
"It is generally believed that the consequences of war will be felt for 5-7 years after victory. Clearly, during this time, some children will grow up and become adults who ideally should not carry trauma throughout their lives. I believe in post-traumatic growth, and we are making significant efforts toward that. However, for this growth to happen, necessary steps need to be taken now at all levels - not only at the state level but, importantly, at the community level," explains the First Lady.
Olena Zelenska confesses that work helps her stay strong and not lose hope. And for distractions, she turns to physical activities and education.
"I understand that sometimes I need to engage in something - not necessarily sports, but any form of physical activity - it really helps to switch to something else for an hour and keep it together. Recently, I have found a new activity for myself - I have resumed my studies," adds the First Lady.
While speaking about accessibility in Ukrainian society, Zelenska emphasized that now it has become more relevant than ever before. When it comes to physical accessibility, the ongoing war has resulted in an increasing number of individuals who will require it. Therefore, this aspect must be taken into account during the reconstruction of our country.
"We will have more people using wheelchairs. We will have more individuals with amputations and prosthetics. We already have and will continue to have more people with visual and hearing impairments. That's why it's crucial to lay the foundation for the future now, and we must think about it," explains the First Lady.
In yet another of her initiatives, Olena Zelenska has proposed the convening of the Annual Summit of First Ladies and Gentlemen. According to her, they are planning to hold the third such summit this year. It is likely to take place in Ukraine during the autumn season, as clarified by the First Lady.
"The focus theme for this summit will be mental health, a topic of global concern that extends beyond the borders of Ukraine. Mental health is a critical issue for everyone, and Ukraine should take a leadership role in this aspect. Ukraine is currently a testing ground where innovative solutions are being developed. This unique experience sets us apart from other nations. The summit will include specific panels dedicated to discussing the mental health of teenagers and young people," says Olena Zelenska.
By addressing mental health at the summit, the First Lady aims to shed light on an important and pressing matter that affects societies worldwide. The summit serves as a platform for exchanging ideas and collaborating on innovative approaches to mental well-being.