Whose Pope? Why Francis sparks scandals with statements on Ukraine and Russia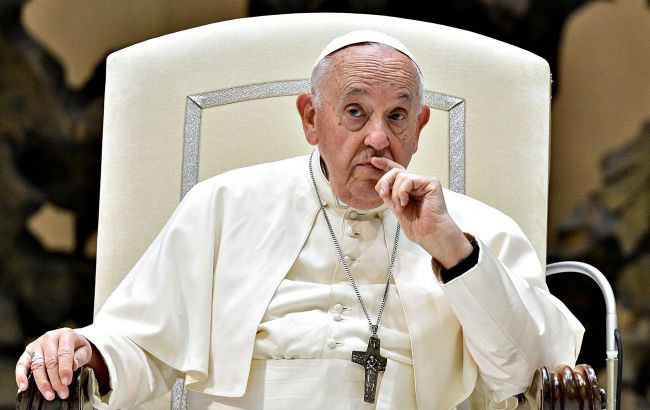 Pope Francis (Getty Images)
Recently, Pope Francis stirred controversy with his praise of Russian imperialism in an address to Russian Catholics. The Kremlin welcomed the Pope's words, while the Vatican attempted to distance itself from supporting Russia. RBC-Ukraine on what is known about Francis' statements on Ukraine and why they are triggering criticism.
Magnifying the Empire
"Never forget your heritage. You are descendants of great Russia: holy, rulers, the great Russia of Peter I, Catherine II, that empire - great, enlightened, of great culture and great humanity. Never abandon this heritage. You are descendants of the great mother Russia; move forward with it. And thank you - thank you for your way of being, for your way of being Russians," Pope Francis stated in his address to an all-Russian meeting of Catholic youth in St. Petersburg.
Russians published a video with this quote from Francis, but the full text of the address on the official website of the Pope did not mention Peter and Catherine.
These words from the pontiff naturally sparked dissatisfaction and condemnation from the Ukrainian public and politicians. Ukraine's Ministry of Foreign Affairs criticized Francis's statement, calling it "ordinary imperialist propaganda" and "spiritual bonds" that Russia uses to justify the killing of Ukrainians.
"It is very unfortunate that Russian imperial ideas, which are actually the cause of Russia's chronic aggressiveness, consciously or unconsciously, are voiced by the Pope, whose mission, in our understanding, is precisely to open the eyes of Russian youth to the destructive course of the current Russian leadership," wrote MFA spokesperson Oleg Nikolenko on Facebook.
Criticism of Francis's words also came from the Ukrainian Greek Catholic Church, which warned of the danger that the Pope's words could be perceived as support for Russian nationalism and imperialism, which have led to the war in Ukraine. The UGCC also demanded explanations from the Vatican.
Russian propaganda quickly seized on the Pope's statement. Kremlin spokesman Dmitry Peskov was "very pleased" that Francis's words were in harmony with "Russian efforts" in historical matters.
However, the Vatican tried to downplay the scandal, stating that the Pope did not intend to glorify Russian imperialism but merely wanted to encourage Russian youth to preserve and promote "all the positive aspects of the great Russian cultural and spiritual heritage."
"And not to magnify imperial logic and statesmen, whom he mentioned to indicate certain historical periods," added Vatican spokesman Matteo Bruni.
The Ukrainian President's Office also sharply reacted to Francis's words. The advisor to the head of the President's Office, Mykhailo Podolyak, in an interview with the Italian Corriere della Sera, called the Pope an "instrument of Russian propaganda" who encourages Putin's ideology and his tendency towards genocide.
Not the first scandal
Despite Pope Francis openly condemning the war in Ukraine, this is not the first time he has, in one way or another, fueled Russian propaganda with his statements.
Last autumn, Francis expressed his shock at the cruelty of occupiers in Ukraine, saying that such behavior was not characteristic of the Russian people. "I prefer to think this way because I have great respect for the Russian people, for Russian humanism," the pontiff said at the time.
In Ukraine, such a statement by Pope Francis was perceived as an attempt to shift responsibility for the war from the Russian people to "soldiers" and "mercenaries" who, as Francis stated, "go to war as an adventure."
Francis has been involved in controversies before due to his statements about Russia (photo: Getty Images)
At that time, the Pope's statements were criticized by the Ukrainian Ambassador to the United States, Oksana Markarova, and the head of the Ukrainian Greek Catholic Church, Sviatoslav, brought a fragment of a Russian landmine to the Vatican, which had destroyed the facade of a church in the Kyiv region in March 2022.
Before this, Francis made ambiguous remarks addressing Russian dictator Vladimir Putin and Ukrainian President Volodymyr Zelenskyy, calling on both to cease fire "in the name of God" and find "a way out of the crisis."
However, the Pope never criticized Putin for the crimes committed by Russia. Francis explained this position by saying he didn't want to offend anyone, and supposedly, everyone already knows who he condemns.
"Sometimes I try not to be specific to avoid offending and rather to condemn in general, even though it's well known who I'm condemning. There's no need to specify names and surnames. Why don't I mention Putin? Because it's unnecessary; it's already known. People latch onto details. Everyone knows my position regarding Putin, with or without mentioning his name," he said.
The Pope also repeatedly expressed his desire to meet with Moscow Patriarch Kirill, even though he is one of the main supporters of aggression against Ukraine. He even communicated with him via Zoom after Russia's full-scale invasion.
Pope-peacemaker
After the start of the full-scale war, Pope Francis decided to become a peacemaker and a mediator between Russia and Ukraine. Despite President Zelenskyy's ambiguous hints that Kyiv doesn't see Francis or anyone else as a mediator, the Pope delegated Cardinal Matteo Zuppi with a "peace mission." Pope Francis himself called for more "creative approaches" to ending the war in Ukraine.
Pope Francis wants to become a peacemaker in Russia's war against Ukraine (photo: Getty Images)
As part of the papal "peace mission," Zuppi visited Kyiv, where the Ukrainian authorities explained Vatican that there is only one formula for peace - the Ukrainian one. They kindly invited the Pope to join its implementation, especially in the matter of returning Ukrainian children deported to Russia. After that, the cardinal traveled to Moscow.
In Moscow, Zuppi had a meeting with the Russian ombudswoman Maria Lvova-Belova, who, together with Putin, is sought by the Hague court for deporting Ukrainian children. According to the Russians, they discussed "humanitarian issues related to military operations and the protection of children's rights."
After these visits, the Vatican cardinal criticized the European Union for allegedly insufficient efforts on the path to peace in Ukraine.
"The EU does too little; it should do much more. The EU should support peace initiatives in every way," he said, adding that peace cannot be achieved through weapons but through dialogue.
Why does Francis have ambiguous attitudes toward Russians
According to Viktor Yelensky, the head of the State Service for Ethnic Policy and Freedom of Conscience of Ukraine, Pope Francis's statements and positions are related to his understanding of the world and geopolitics, as he hails from Argentina.
"The Pope was shaped under the influence of liberation theology, which saw imperialism only from the West and never from the East. This is because of European history, the suffering of our people, the entire World War II, what was before World War II, and what happened after it, the USSR collapse - all of this is quite far away and different history for him. Just like for us, for example, the history of Argentina," he explained.
However, Yelensky does not believe that the Pope had something specific in mind with his controversial address to Russians. In his view, Francis sees Peter and Catherine as Europeans who tried to bring Russia closer to Europe.
"So he spoke about heritage. But there is no need to justify what he didn't say by what he did say," added the head of the State Service for Ethnic Policy in an interview on the Svoboda Live program.
Yelensky also says that Pope Francis has been leading the multi-billion-dollar Catholic Church for ten years, so there should have been enough time to figure out what is good and what is evil.